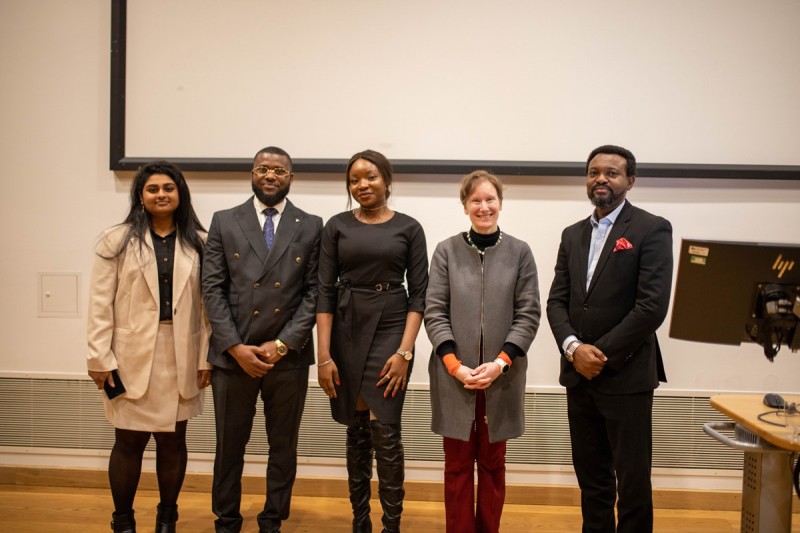 Left to right, the Plenary Speakers Ms Nisha Sheeba, Mr Taribowei Ibori; moderator, Ms Mbang Young; Head of Department, Humanities and Law, Katharine Cox; and moderator, Mr Muyiwa Ayojimi.
The Commercial and Maritime Law Research Group (CMLR) is aimed at pursuing a critical and comprehensive review of the law and legal principles by investigating the accepted and alternative legal reasoning in International Commercial and Maritime law.
The research conference on Friday 9th December 2022 was the first event organised by (CMLR). The theme of the conference was 'Law, International Commerce & Technology in the 21st Century & Beyond.'  The department plans to host more events over the course of BU term times.
The event hosted four discussions. In her presentation, Ms Nisha Sheeba discussed the legal conundrums of blockchain technology in international commerce, focusing specifically on how blockchain technology affects legal contracts.
Mr Taribowei Ibori's presentation brought to the fore, the absence of an effective international legal framework to regulate autonomous vessels and the threat that this poses for commercial shipping. 
Professor Onyeka Osuji, expert from academia was the first keynote speaker. His presentation assessed what the threshold of business responsibility should be in the face of technology, globalisation, and the pluralism of law.
While the second keynote speaker Mr Jordan Olotu, expert from industry focused his presentation on business transformation through digital technology and the critical role human persons play as gatekeepers of cyber related issues.