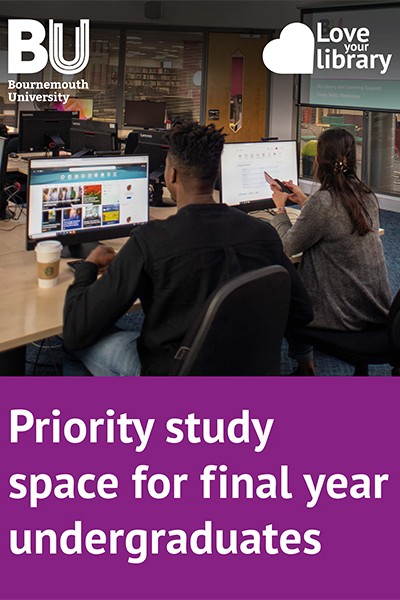 To help support you in your studies at BU, we're starting the new year with some exciting updates in The Sir Michael Cobham Library on Talbot Campus.
24/7 opening for exams
From Monday 9 to Friday 20 January we'll be throwing open the library doors 24 hours a day for the exam period. The Weston Library – Lansdowne campus – is open 24/7 throughout the year.
Please note: Your ID card is required for access after 5pm on weekdays and over the weekend at The Sir Michael Cobham Library and 24/7 at Bournemouth Gateway Building.
New priority space for final year undergraduates
From the start of January, we'll be designating some space up on the fourth floor just for the use of final year undergraduates. This will be a quiet space where you can study in peace during this important final part of your course.
New monitors
On the ground floor, we now have eight large screens for you to dock your laptops into. There's no need to book - just turn up and plug in.
Find out more about BU's library and learning support services.