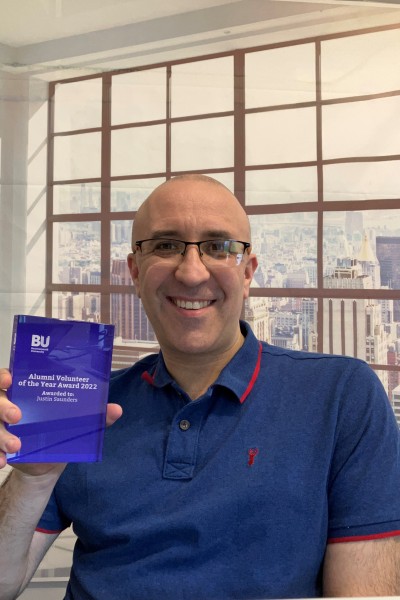 A business studies graduate who now supports students and staff as a member of the course's alumni panel has been named Alumni Volunteer of the Year.
Justin Saunders completed his degree in business studies at BU in 2006 and is now Director of his own L&D consulting business, JS Learning Solutions Ltd. As an active member of the Business Studies Alumni Panel, he provides input to help shape the course's development and supports students' employability by giving guest lectures, setting project briefs, mentoring students and by helping them get ready for placement.
Parisa Gilani, Principal Academic in HR and OB and Co-ordinator of the Business Studies Alumni Panel, said: "Justin is a fantastic asset and ambassador for the Business School and for the wider university. In less than three years, as a valued member of the alumni panel, he has actively engaged in activities that have made a significant difference to student engagement and employability. He is always generous with his time and works with students in a supportive and inclusive manner. We're not quite sure what we'd do without him."
The Alumni Volunteer of the Year Award is presented each year to a BU graduate who has given back through a range of activities. The award is designed to recognise the value and impact that alumni continue to bring to the BU community.
Jonathan Goode, Head of Alumni Relations at BU, said: "Once again this year our alumni have given more than 1,000 hours of volunteering to support staff and students across our Faculties and Professional Services. We know how much students value the opportunity to hear from and connect with those who have been where they are now, and who have gone on to forge different careers, and Justin is a very worthy winner for 2022."
Justin said: "I'm thrilled to be presented with this award! The opportunity to engage with emerging talent is what drives me every day, so being an active support to students is an opportunity to be inspired as well as stay connected with the latest thinking and techniques.  Thank you to all at BU for this incredible award, and for the ongoing opportunity to make a lasting contribution to BU."