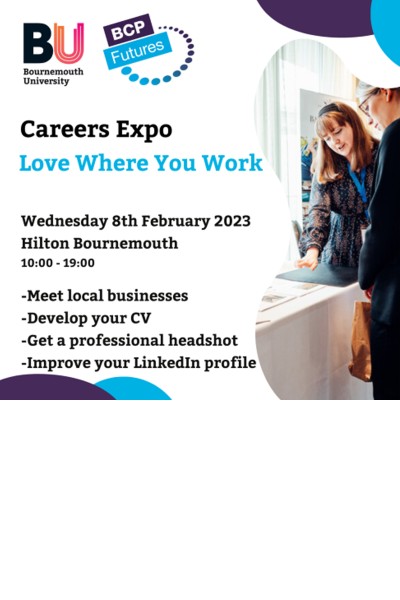 BU Principal Academic in Marketing, Dr Samreen Ashraf, has led a research project funded by Bournemouth, Christchurch and Poole Council to better understand the challenges that the local people are facing when finding the right job.
This research has culminated in a jobs fair exhibition in Bournemouth Town Centre which aims to help you secure a job of your choice and learn tips and skills to stand out in today's job market.
The 'Love Where You Work' exhibition will take place on Wednesday 8 February between 10am and 7pm at the Hilton Hotel in Bournemouth (Terrace Road, BH2 5EL). Tickets are free and open to all students and the general public to book on Eventbrite.
During the day you can expect to:
Speak with employers from a wide range of sectors - including digital, construction, engineering, manufacturing, finance, green technology, health care, social care, retail, hospitality, and leisure.
Learn tips to improve your CV
Make a LinkedIn profile that will stand out in a crowd
Take part in on-the-spot interviews for a range of local opportunities
Get a professional photograph for free which can be utilised on a digital CV or LinkedIn profile.
For further information about this exhibition or related research related to the project, please check the BU website, or get in touch with Dr Samreen Ashraf at [email protected].