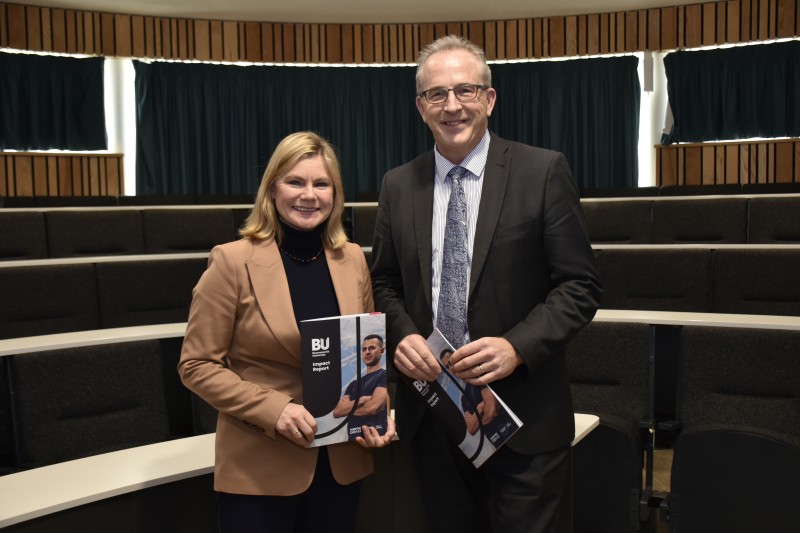 The Rt Hon Justine Greening and Professor John Vinney
A new report has highlighted the role Bournemouth University (BU) plays in supporting levelling up across the Dorset region through its mission to be a catalyst for growth and boost skills in the local economy.
The BU Impact Report has been published by the Purpose Coalition, which was established by former Secretary of State for Education and International Development, the Rt Hon Justine Greening. The Purpose Coalition brings businesses and universities together to work towards improving equality of opportunity and social mobility in the UK.
Speaking at the launch of the report, Justine Greening said, "What employers might not realise is that the whole issue they are looking at of 'how can we be an engine for social mobility? How can we be an organisation where people can get in and get on?' is something that universities have been doing for twenty-five years.
"Higher Education has deep insight and the reason we wanted to work with universities like Bournemouth is that the answers to how we do levelling up are already out there."
Among the university's activities highlighted in the report is its schools outreach activities, which aim to reduce the attainment gap in disadvantaged schools. This work includes the Books and Stories and Maths Mates projects, where BU students run guided lessons with local children to improve their reading ages and maths abilities. The Purpose Coalition note that the Office for Students have highlighted this as an area of best practice for promoting equal opportunities.
"This is really important as the report shows and it shows a way forward for other universities to look and learn, but also for employers who want to have an impact," said Ms Greening.
The report also highlights the role the university plays in improving the health of residents in the Bournemouth area, something which is particularly important with an aging local population. This includes a growing research partnership with University Hospitals Dorset, and the work of BU's Orthopaedic Research Institute which supports patient care by helping to prevent and lessen hip pain.
Professor John Vinney, Vice Chancellor at Bournemouth University said, "Working for the benefit of our region as well as through our international reach, is in our DNA – connecting our students and staff to engage in projects and work that matters to the community and addressing societal issues."
The report also makes several recommendations for how Bournemouth University can build on the work that it does to keep the momentum going and ensuring even greater impact. This includes increasing the number of students who undertake placements with local businesses, ensuring that the university is providing the right skills for the region and building on its partnerships with local councils and the Dorset LEP which will be crucial for spreading skills across the region.
The Bournemouth University Impact Report can be read here.