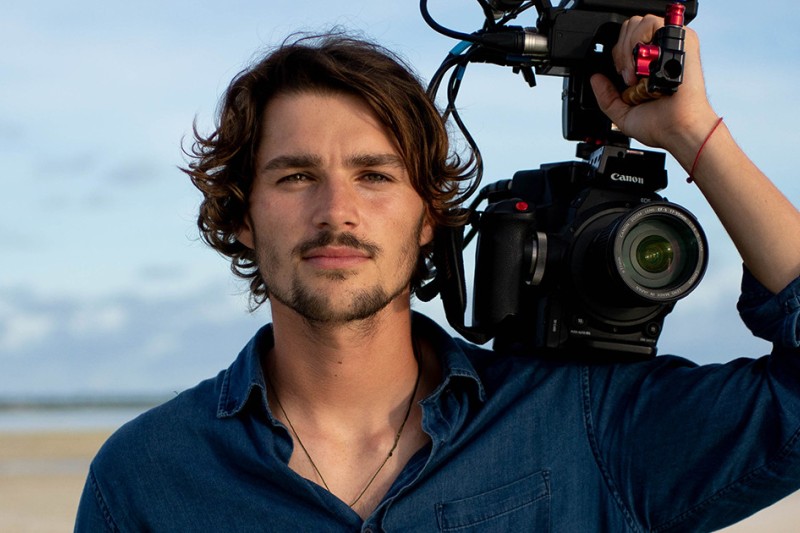 Jack Harries is a documentary filmmaker and the co-founder of EarthRise, a media company dedicated to communicating climate and culture. Jack started out as the founder of Jack's Gap, a YouTube channel and blog with over 4 million subscribers. He has spent over a decade raising awareness on climate change, forced migration and mental health.
Jack started the masterclass by talking about his route into the media industry. He started out during his gap year where he began his YouTube channel, Jack's Gap. 10 years later, this channel has rebranded into EarthRise with their first breakthrough series being 'Seat At The Table'. According to Jack, this series followed the idea of "How can we take the voices of those who are on the front lines of the crisis and lift them up?" with the main concept being getting those voices to the COP26 summit in Glasgow which EarthRise was attending.        
Jack also talked about how he has spent over a decade raising awareness on climate change, forced migration and mental health. He has covered stories across the globe working with other leading climate change activists like David Attenborough and Barrack Obama. And as the Creative Director of EarthRise, he has collaborated with many platforms and companies such as Waterbear Network and Silverback Studios to produce multiple influential series like The Breakdown and Spotlight. 
At the end of the session, there was a Q&A Opportunity for students to ask Jack about his career and the work Earthrise are doing. Media Production student, Emma Rand asked "How have you developed your visual filmmaking style? Has it changed over time & how would you translate it into new projects when working with new creatives?"
To which Jack responded: "My style is informed by things I have watched that I love. Inspiration is really important. There is always that feeling where you're watching something, and you get jealous. And you're like 'I wish I made that'. That's the style to chase"
After the event, Media Production student Molly Place said: "It was great to have Jack as guest speaker from Earthrise, having previously known Jack from his YouTube channel; Jacks Gap, that I used to watch nearly 10 years ago, it's great to see him still producing engaging content on such important matters. This talk inspired me to make more of a conscious effort to help out with our planet and gave myself and others great resources such as video series that we can watch to gain more knowledge on climate change!"
The above artcile was written by Will Rodwell, studying BA Hons Media Production