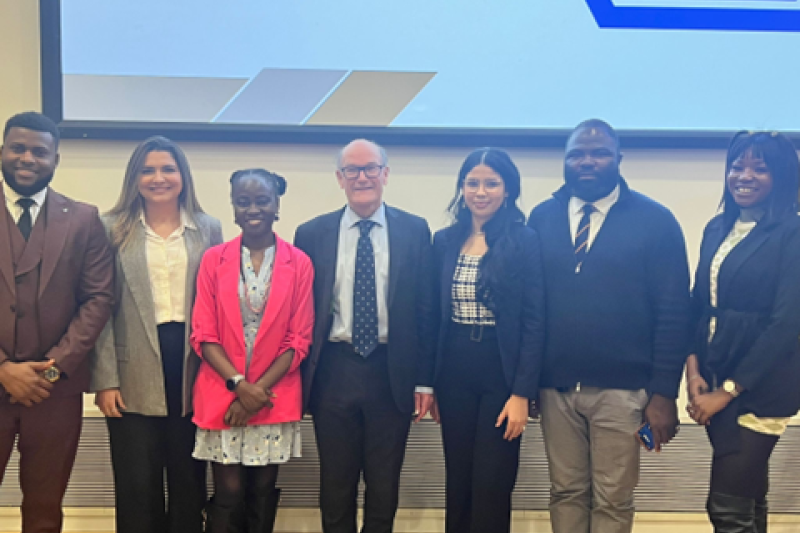 Left to right, a member, Taribowei Ibori; a Plenary Speaker, Líssia Queiroz De Menezes; a member, Oluwafunmilayo Adesina-Babalogun, Keynote Speaker, Professor Paul Ekins OBE; a member, Samson Taiwo; a Plenary Speaker, Michelle Schiott; and a Moderator, Mbang Young.
The Commercial and Maritime Law Research Group (CMLR) - BU is aimed at pursuing a critical and comprehensive review of the law and legal principles by investigating the accepted and alternative legal reasoning in International Commercial and Maritime law through a variety of research activities.
The research event on Friday 24th March 2023 was the latest event organised by CMLR. The theme of the conference was 'The Rise of Sustainable Technologies: Legal, Commercial & Policy Implications.' The event witnessed three profound speakers discuss sustainable technologies from different perspectives.
In her presentation, Ms Líssia Queiroz De Menezes discussed the concept of green hydrogen technology & global energy crisis and, the legal conundrums in international commerce, specifically the lack of a globally accepted form of regulation for green hydrogen. This is particularly instructive considering the United Nations Sustainable Development Goal (UN SDG) 7 (ensure access to affordable, reliable, sustainable and modern energy for all) and UN SDG 11 (make cities inclusive, safe, resilient and sustainable.)
Ms Michelle Schiott's presentation focused on hydroponics technology as the revolutionary concept for alternative farming methods. Her presentation raised serious legal and controversial questions. On one hand, there is the absence of an effective international legal framework. On the other hand, there is the general controversy in different jurisdictions on whether hydroponic produce is organic. This is particularly instructive considering UN SDG 2 (end hunger, achieve food security and improved nutrition and promote sustainable agriculture) and UN SDG 7 (ensure access to affordable, reliable, sustainable and modern energy for all.)
Professor Ekins' (OBE) presentation focused on assessing the urgency for an enforceable international legal framework to regulate the provision of infrastructure which can reduce carbon emissions in the face of the global warming crisis which is now an existential threat to planet Earth. He highlighted that the lack of regulation can affect the global GDP and questions the lackadaisical approach of governments which fail to match their rhetoric about reducing their carbon-footprint with practical actions. This is particularly instructive considering the UN SDG 8 (decent work and economic growth,) UN SDG 12 (responsible consumption and production) and, UN SDG 13 (take urgent action to combat climate change and its impacts.)