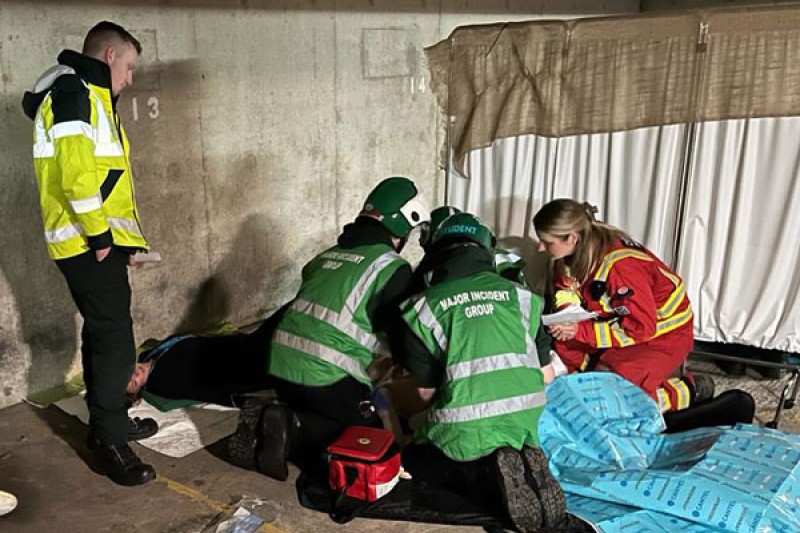 "We are interrupting this programme with an important news alert to inform members of public in the Bournemouth area to take cover from a sea monster that has been seen rampaging through the town centre..."  
These were the words heard by BU staff and students as they took part in a major incident simulation event on Lansdowne campus held over the course of two days on the 29 and 30 March 2023.  
The day started with first year paramedic students from the Faculty of Health & Social Sciences being briefed via a creative news flash, informing them of the developing emergency prior to being tasked to action, as first-responders.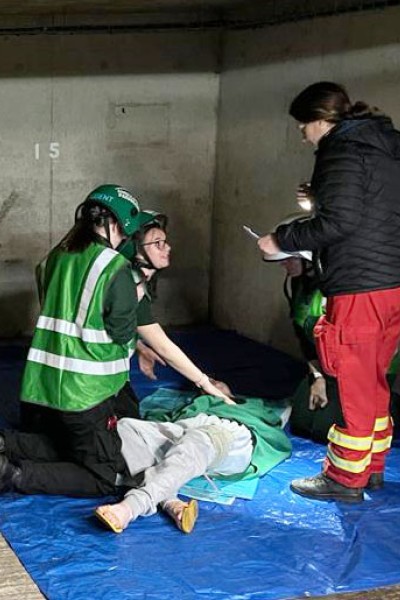 The brief set off a series of simulated activities that began with them treating casualties in an underground car park. The students were led into a dark, damp area where they were presented to a series of unique challenges with multiple casualties, ready to be treated. 
Volunteer clinical students acted their parts as casualties, with injuries that were created and applied by a team of makeup artist students from Arts University Bournemouth (AUB). 
Adam Bancroft, Paramedic Science Programme Leader at BU who's team organised the event said: "This type of simulation enables us to push the students out of their comfort zone, whilst being able to control the environment and make sure it's a great place to learn. We've added a bit of fun into the mechanism of how the injuries occurred by using the story of a Godzilla-style attack. However, the processes of dealing with multiple patients and how we triage them is the same system." 
The car park staged a casualty clearing point, which simulates what would happen if a mass-casualty incident occurred in real life. Adam said: "The clearing point is an area where patients are initially treated before being transferred to definitive care. This teaches students to priorities their actions, which is essential when they go out into clinical practice and faced with real multiple patient situations."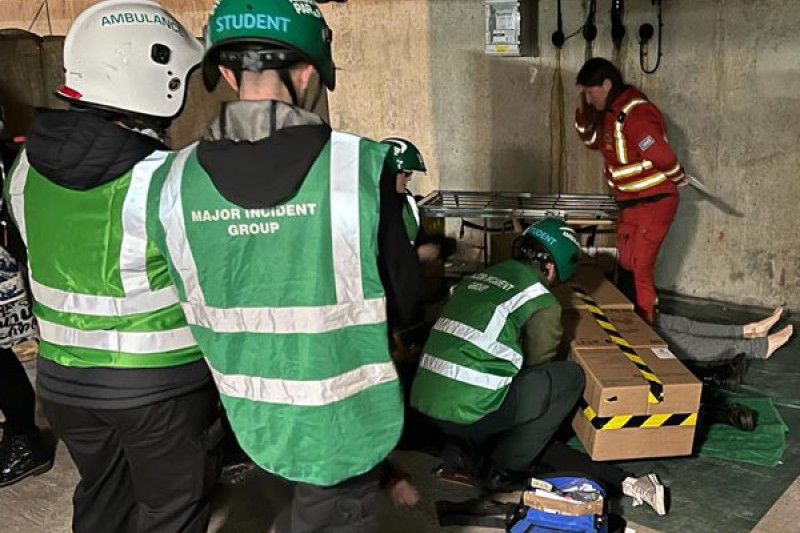 Nursing students from the Faculty of Health and Social Sciences also took part in the second day of activities. They got involved in treating a range of simulated injuries including catastrophic haemorrhage, complex crush injuries and fractured bones, along with treating patients who displayed more complex injuries that required students to work in multidisciplinary teams.
Health and Social Sciences students weren't the only ones to benefit from the activities during the event. Students from the Faculty of Media & Communication were also reporting on the incidents. This included students studying Public Relations and social media who got the opportunity to take publicity photographs and film and interview participants to enable them write up their blogs and press releases as part of their course.
Dr Tanya le Roux, Principal Academic in Public Relations from the Faculty of Media & Communication said: "One of the areas that we train our Marketing Communications and Public Relations students in is crisis communication. Being involved in a simulation like this gives them hands-on experience of how to manage a crisis. It also poses questions for them such as what type of photos of injured people are appropriate to show on social media. It's important for them to understand and learn the different types of communication when publishing information to an audience."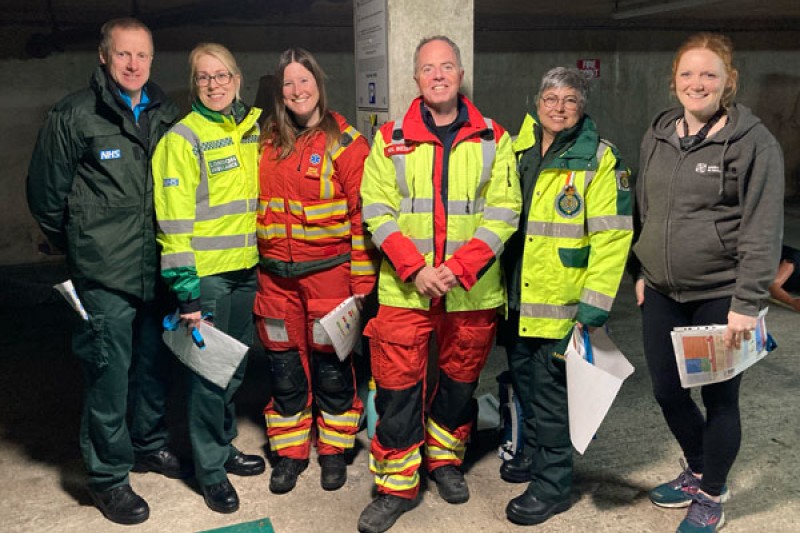 Registered clinicians attended the event alongside BU academics to support the students as directing staff, while they treated the simulated casualties. Critical Care Practitioners from Dorset & Somerset Air Ambulance, alongside paramedics from South West Ambulance Service and South Central Ambulance Service, who form part of BU's partner agencies providing clinical placements for students, were there to debrief the students as an essential part of learning from the event. 
Neil Bizzell, Critical Care Practitioner from Dorset & Somerset Air Ambulance said: "The students get to meet us as a team in the dynamic setting of a simulated emergency and puts us all in one place at the same time to share knowledge and experience. We're able to observe what they're doing and pass on some of our experience and knowledge, and the students can carry this forward into their future practice."
The day's events ended less dramatically than it began with staff and students enjoying a well-earned tea and coffee break before Godzilla was packed away and retired until next year. 
Watch the film from the event:
​
For further information about the Faculty of Health & Social Sciences and the courses available to study please visit the BU website. 
For further information about the Faculty of Media & Communication and the courses available to study please visit the BU website.