AFC Bournemouth women's team battled to a 0-0 draw against Maidenhead in the BU Big Match on Sunday – the second time the women's team has played at the Vitality Stadium.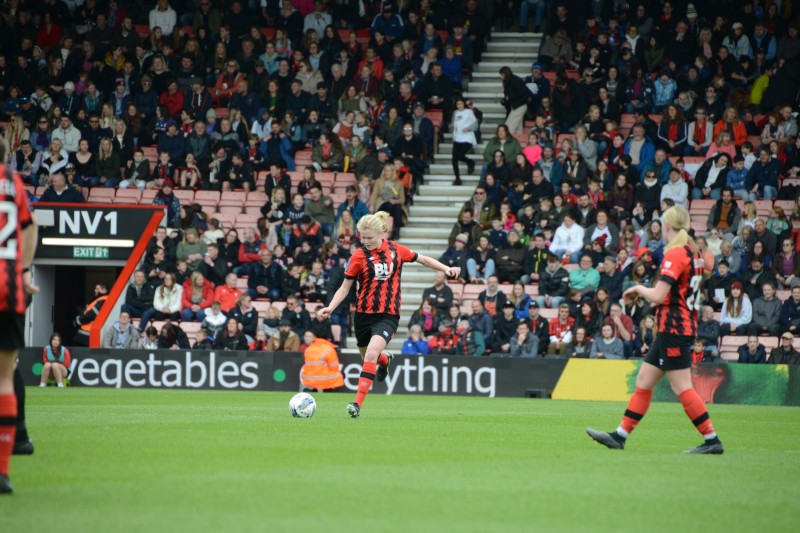 In front of a confirmed record crowd of 3,067 for an AFC Bournemouth women's match, the Cherries looked closest to breaking the deadlock, especially after Maidenhead were reduced to 10 players following the sending off of one player due to accumulated fouls.
The game was designated as a BU Big Match in celebration of the partnership between BU and AFC Bournemouth. BU is the official higher education partner of the Cherries, and principal partner of the girls' and women's teams, with the BU logo appearing on the front of the shirts.
The official matchday programme included an article from BU student Zach Sampson, who attended the pre-match press conference with the BU sports journalism cohort, and an article about BU students Kieran Keleher and Jamie McNulty, who are currently on placement from their Sports & Exercise Science course and working as sports scientists for the women's team.
Kieran and Jamie was guest stars at the match, combining their role in preparing the team with a half-time interview on the pitch talking about their placement experience.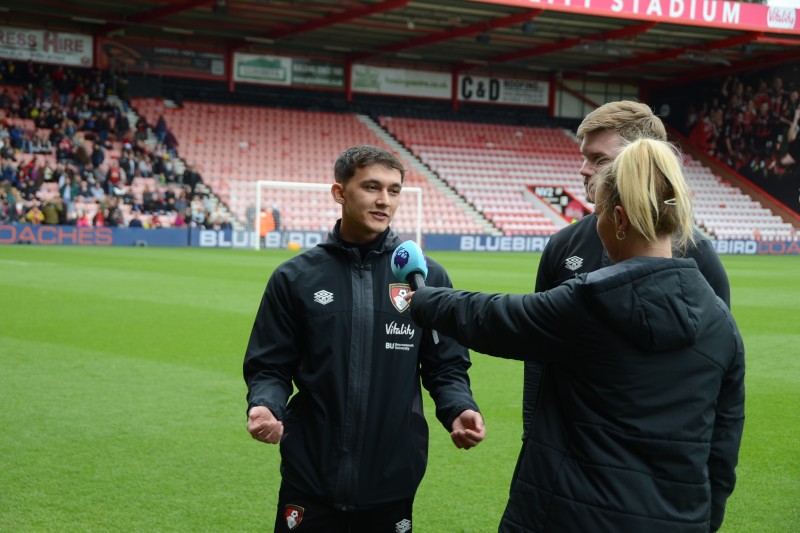 Before the match, Nerve Radio students were guest DJs in the Balfour Suite providing entertainment, and videos about BU's partnership with AFC Bournemouth played on the big screen. BU's sports journalism students also had the opportunity to attend the game as journalists, participating in the post-match press conference.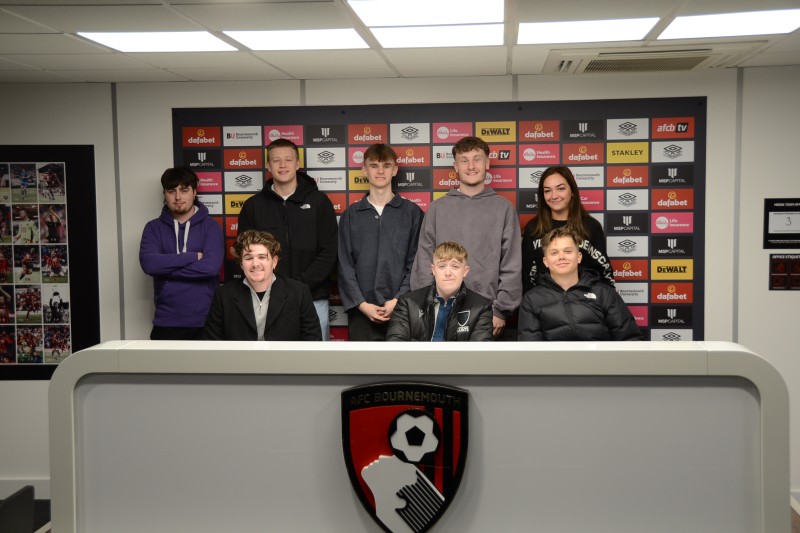 The Cherries side were unable to make the breakthrough and win the match, but manager Steve Cuss spoke about the invaluable experience the Vitality Stadium match gave his young team.
Steve Cuss said, "We normally play in front of 300 people in a non-league ground, and to come and play at the Vitality Stadium is a special event. I thought that our performance was very good, despite not quite getting the goal, and that's testament to the players. It is something we want to do more of as we grow and climb up the leagues and have more big occasions and bigger crowds to play in front of it is going to really help the players.
"This occasion today, I see it as a part of their development for the players and, moving forward, they'll be better for it.
For more information about BU's partnership with AFC Bournemouth, visit www.bournemouth.ac.uk/afc-bournemouth