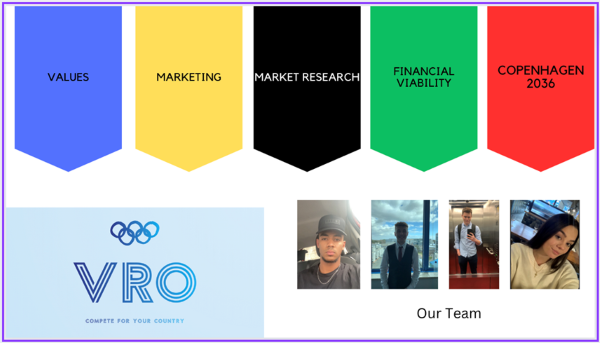 In February 2023, four undergraduate students from the Department of Sport and Event Management competed in the SportsPro Sustainability Hackathon. Students were challenged to create solutions that could help the sports industry drive social, financial and environmental change. BU students competed with others from across the globe while being mentored by top thought leaders within the industry.
The students were challenged to 'Put yourselves in the shoes of one of the Olympic Games TOP Partner's and create a brand-led campaign that will be delivered during the Games. This must adhere to both the IOC and Copenhagen's values'.
The students pitched a brand named 'VRO: Virtual Reality Olympics' that centred around an online tournament where members of the public could engage in physically active competitions from their home country whilst being in competition internationally (and even against Olympians themselves!).
Luca Phillips, one of the team members commented on his experience of the weekend:
Taking part in the SportsPro Hackathon was a great honour and certainly a rewarding experience. Our team struggled at first, however we stuck together and managed to come up with some great ideas. It was an enjoyable weekend, in which we were able to challenge ourselves and be creative by imagining methods to make sport more sustainable.
Judges for the competition included Kim Mejnert-Frydensbjerg (Head of Events, Wonderful Copenhagen), Claire Poole (Founder & CEO, Sport Positive Summit), Aileen McManamon (Founder & Managing Partner, 5T Sports), Matthew Campelli (Founder of The Sustainability Report) and Simon Chadwick (Professor of Sport and Geopolitical Economy).
While BU did not place in the top three, they were congratulated for their efforts with feedback on their pitch centring around 'Lots of potential', and 'tremendous effort' and that they 'should be extremely proud of the work produced in such a short period of time'.
Dr Ellie Gennings, Lecturer in Sport Coaching, supported students with the competition. She said:
We are incredibly proud of our BU team for their commitment, innovation and professionalism in representing our department. They worked well as a small team to produce a high-quality pitch. Well done.