Bournemouth University hosted a football festival for local girls' football teams at AFC Bournemouth's Vitality Stadium.
The day was organised in partnership with AFC Bournemouth's Community Sports Trust as a part of BU's partnership with AFC Bournemouth. BU is the official higher education partner of the Cherries, and principal partner of the women's and girls' teams, creating opportunities for staff, students, supporters and the local community.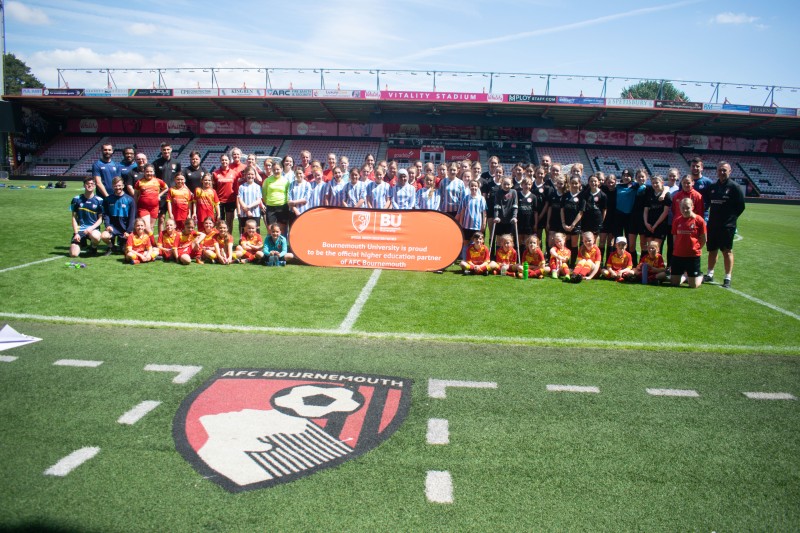 As a part of the partnership, the university hosts a morning of on-pitch activities. This year, girls' teams from Ringwood, Holt, Lilliput and Phoenix were treated to a morning of footballing activity, taking to the Premier League pitch that has seen some of the world's best footballers play this season. The teams were coached by Club and BU coaching staff, with the opportunity to play games and meet AFC Bournemouth's mascot Cherry Bear.
Jim Andrews, Chief Operating Officer at Bournemouth University, co-chairs the partnership steering group. He said, "We're so proud of the support that we've been able to give to the development of girls' football through our partnership with AFC Bournemouth, and it was great to see this extended to four local teams, as we hosted this pitch experience. I hope it inspires some of these talented footballers to continue to progress in their football development – there were some brilliant performances, so we might even see one of them in an AFC Bournemouth shirt one day!"
For more information about the partnership between Bournemouth University and AFC Bournemouth, visit www.bournemouth.ac.uk/afc-bournemouth.