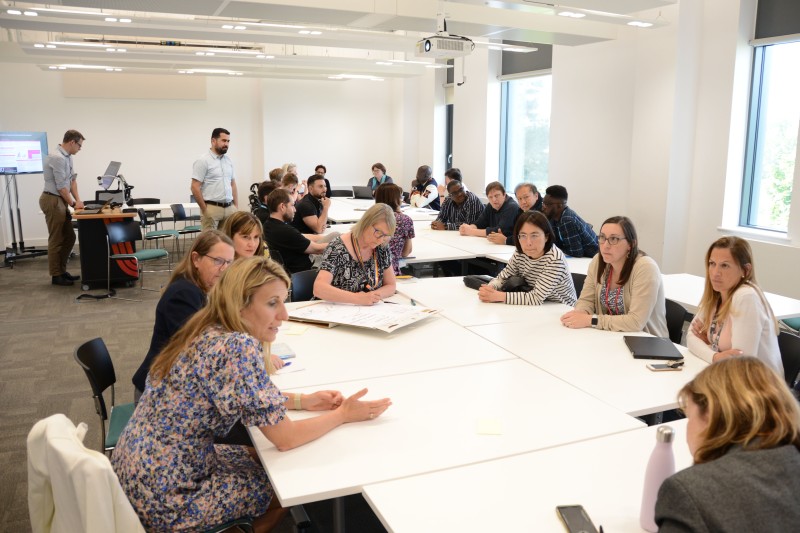 Staff from Bournemouth University (BU) and University Hospitals Dorset NHS Foundation Trust (UHD) gathered to celebrate partnership working and discuss opportunities for future research collaboration.
The two organisations have been in official partnership for two years, and working closely for many more, for the benefit of staff, students, patients and the local community.
An event titled 'Collaborative Research: A Time for Action', brought together university academics and hospital clinicians to discuss societal and workforce issues and how working together could increase knowledge and resolve issues.
Over 120 staff gathered for the second such event aimed at furthering research and supporting healthcare in the region.
The event included a keynote speech from Professor William Rosenberg of Wessex Health Partners, who spoke about the opportunities of working together in Dorset to benefit healthcare.
Workshops were held on digital futures, people and workforce, health inequalities and sustainable futures to bring together staff to discuss key issues and possible opportunities to provide solutions through collaboration.
Professor Jane Murphy, Deputy Dean for Research in the Faculty of Health & Social Sciences co-chaired the event. She said, "we had a fantastic evening showcasing our collaborative research with inspiring conversations to generate new research ideas across health and care to further strengthen our partnership working and collaborations across Dorset and further afield. The event is a now a firm highlight in the calendar and already looking forward to the next one when there will be even more to celebrate!"
Dr Matt Hodson, Deputy Chief Nursing Officer at UHD, also co-chaired. He and added, "It was a honour to open our second research partnership event with Jane this week which brought together a whole host of clinical colleagues from across a number of disciplines from within UHD and academic colleagues from BU, a number of UHD colleagues starting out exploring research and wanting to progress their academic careers, I receive such positive feedback that colleagues were able to share stories, make connections and felt they had an opportunity to be part of a growing research community, which for me is the fundamental aim of our research partnership."