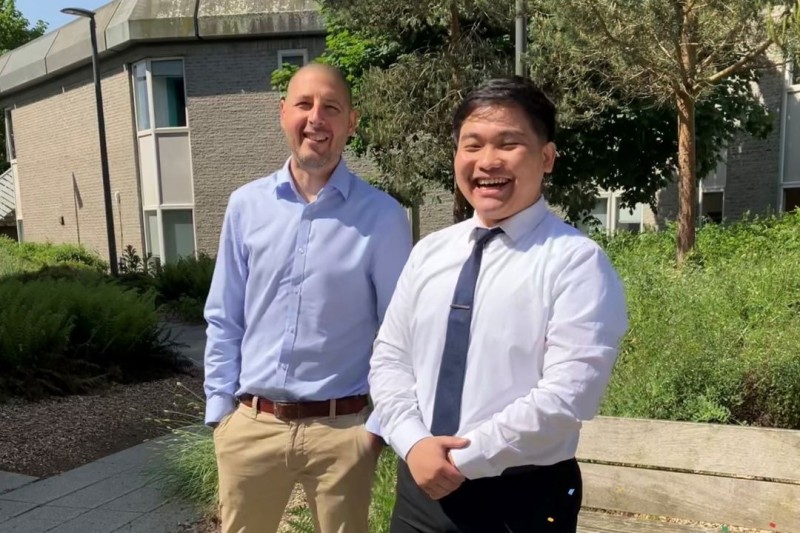 Pranim (Right) and Remy Foucher from Santander Universities
A Bournemouth University student has been awarded a transformational package of funding and career support, as one of the first beneficiaries of the Santander Universities Scholars Programme.
Pranim Gurung, who is completing a BA (Hons) in Business and Management, is one of 100 students studying at Santander partner universities across the country to receive a three-year, £30,000 scholarship.
On being presented with the scholarship Pranim, from Nepal, said: "Being the first from my family to attend university, the Santander Scholarship has helped me attend courses outside of university which have helped me develop my professional skills and improved my future career prospects. I would encourage other BU students to take the initiative and apply for available scholarships."  
The Santander Scholars Programme is supporting 100 full-time undergraduate students due to graduate in 2025, who are identified as being under-represented in higher education. The initiative is designed to break down barriers for individuals facing challenges which may prevent them from achieving their degree and includes opportunities to access networking events and mentoring.
Remy Foucher, Universities Relationship Manager at Santander Universities, said: "Our mission at Santander is to make sure that everyone, regardless of their social or economic background, can be successful in higher education and enjoy a brighter future.
"In addition to the financial award, the Santander University Scholars Programme supports scholars by enhancing their skills and increasing their employability through bespoke training and development opportunities.
"Being selected as a Santander scholar is highly prestigious, as it not only gives successful students the chance to work alongside a leading banking institute, but also strengthens their CV and career prospects. We are delighted to be working with Bournemouth University and supporting Pranim up to his graduation."