On 14 July, Bournemouth University's Centre for Women's Health and Midwifery Research hosted the 'Women's Health Research in Dorset Symposium', a public event discussing women's health research. The symposium showcased the Faculty of Health & Social Sciences, PhD researchers. 
Attendees included NHS clinicians, the Dorset Integrated Care Board (ICB), Postgraduate researchers, and individuals from the third sector, such as the Women's Action Network in Dorset (WAND) charity and Active Dorset. They were joined by keynote speaker, Dame Professor Lesley Regan, England's Women's Health Ambassador, who discussed the UK's Women's Health Strategy.
Susie Reynell, Finance Director at Bournemouth University commenced the event, discussing the four research areas of CMWH:
Infant feeding and postnatal care
Changing the narrative and care in early labour
Improving care for mothers and babies in low- and middle-income countries
Women's health and other research.
Following this, Dame Professor Lesley Regan introduced England's Women's Health Strategy. She spoke of the importance of celebrating the contributions of women as well as the impact of women's health on the economy.
Dame Professor Lesley Regan, said: "Women make an invaluable contribution to society. We must focus more on the economics of women living healthy lives both in employment and in unpaid caring roles…Once we get it better for women, we save money."
Menopausal women make up one in four of our workforce. Dame Professor Lesley Regan discussed the need for female champions in the workforce and increased female representation in leadership roles, such as in the NHS board.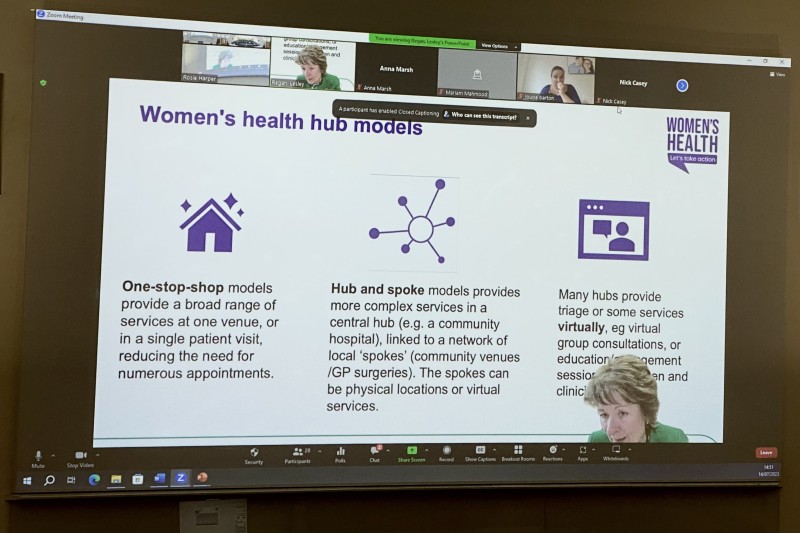 Dame Lesley Regan introducing the women's health hubs
In addition, she discussed proposals for women's health hubs, across the UK, which aim to improve women's access to health services. For example, the demand for hormone replacement therapy (HRT), is currently outstripping the supply. Therefore, the hubs will help make treatments such as HRT more accessible to women.
To conclude her presentation, Dame Professor Lesley Regan reiterated that women's health is an asset to society and not just a monetary value. In the 2022 Women's Health Strategy for England, she said: "When we get it right for women, everyone in our society benefits."
PhD researchers: Dr Emma Thurston, Abier Hamidi, Kate Rattley and Rosie Harper
After, a public online Q&A with Dame Professor Lesley Regan, students from the Faculty of Health and Social Sciences presented their PhD research subjects:  
PhD student, Rosie Harper, introduced her research subject, 'Nudging: a theoretical concept for a very practical approach to pelvic floor muscle training'. In her presentation, Rosie highlighted the problem of pelvic floor dysfunction, which affects 1 in 3 women in the UK.
Dr Emma Thurston, PhD student, GP and Lecturer of Physician Associate Studies, discussed her research subject, 'A feminist enquiry into how formal & informal sex education impact women's sexual pleasure & agency'. Key issues she spoke of were the lack of understanding of female anatomy and the need for an improved sex education curriculum.
PhD student, Abier Hamidi's research investigated, 'The gender and religious context of women and HIV in Libya: A mixed-methods study'. As part of her study, Abier is researching the social-cultural attitudes towards HIV/AIDS-related knowledge and HIV risk perception, with research findings showing that women were blamed for the increased prevalence of HIV.
Finally, PhD student Kate Rattley, concluded the event with her PhD, 'Exploring physiological responses to exercise in menopause'. Katie highlighted that better information about exercise in menopause would ensure sports and other physical activities remain accessible to all women.
Find out more about the Centre for Midwifery and Women's Health.
Find out more about Postgraduate research courses at Bournemouth University.