BU graduates, Laura Bradley Chapman and Elisha Adams have raised the bar for marketing in the film industry, supporting the marketing of this year's hit film, Barbie.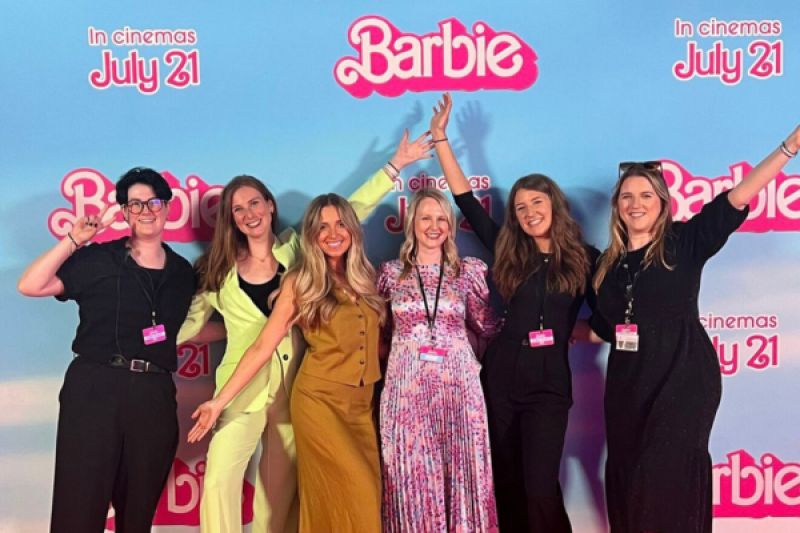 Elisha Adams is featured in gold and Laura Bradley Chapman stands to her right in pink
Globally, Barbie has exceeded expectations, breaking box office records for the most commercially successful film by a female director, bringing in more than $356m (£276m) worldwide during its opening weekend.
The movie collaborated with more than 100 brands, including Airbnb, dating app, Bumble, OPI nail polish and many other leading beauty and fashion brands. Entrepreneur business news has headlined Barbie as a 'Marketing Masterpiece'.  
Senior Marketing Manager at Warner Bros, Discovery, Laura Bradley Chapman, BA Advertising and Marketing Communications graduate worked in the marketing team to promote Barbie.
Laura said on LinkedIn: "Leading the UK marketing campaign for the Barbie movie has been the highlight of my career so far. I feel so proud, inspired, and lucky to be part of a team of Barbies and Kens that have poured their hearts into the campaign to do this very special film justice!"
Laura worked on a project to create a series of Snap lenses, 'Barbie the movie X Snapchat', which enabled Snapchat users to ride in the infamous Barbie car. Another filter, Barbie Land transformation of Tower Bridge, used augmented reality (AR) to display Barbie branding over London's Tower Bridge. 
Elisha Adams, BA TV Production graduate and Film Marketing Executive at Warner Bros worked alongside Laura. Elisha said on LinkedIn: "The past year working on this film has been a rollercoaster ride of epic proportion, and that's putting it lightly.
"Where do I even begin, from sparkly pink buses and taxis to Selfridges windows featuring costumes from the film, every touch point throughout the campaign has been incredibly fun and incredibly PINK! To have been part of the marketing for Barbie has been such a joy and an honour, seeing all the incredible articles written about the campaign (and all the memes!) is a pinch-me moment for sure and a career highlight I'll treasure forever."
Dr Mona Seyed Esfahani and Dr Sae Oshima from BU Corporate and Marketing Communications, said:
"We're proud of the achievements of our graduates and it is lovely to see examples of their work in industry take centre stage. The marketing behind the Barbie movie has shown the impact of a diverse, creative, and fun marketing campaign." 
Find out more about the Faculty of Media & Communications at Bournemouth University.