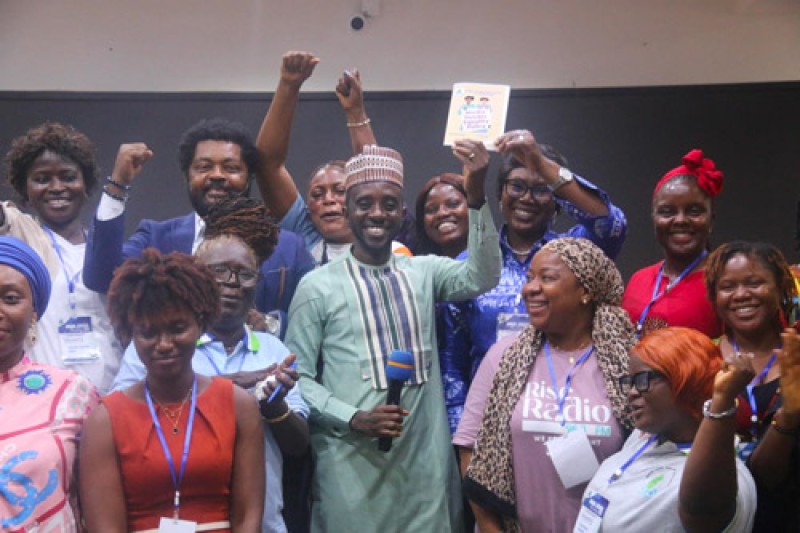 Sierra Leone's Minister of Information and Civic Education, Chernor Bah, holds up the policy document (Image: SLAJ)
Bournemouth University academics have helped launch a pioneering policy for journalists, journalism associations, and news outlets in Sierra Leone - aiming to promote inclusivity and equity in news industries. 
The Gender Equality Policy for the Media — developed by the Sierra Leone Association of Journalists (SLAJ), with contributions from two BU academics — was released on 9 September by Sierra Leone Minister of Information and Civic Education, Chernor Bah.
SLAJ is the national body of journalists, journalism associations, and media houses in Sierra Leone, which works to strengthen journalism and promote freedom of expression.
"This is among the first major initiatives specifically targeted at the news media in West Africa," said Dr Chindu Sreedharan, who, together with Professor Einar Thorsen, had worked with SLAJ to finalise the policy. "At a time when gender equity is relatively new in the news industry, and many journalism associations are still working to figure out their policies, it is commendable that SLAJ has taken this historic step to foster gender inclusivity."
Key highlights of the Gender Equality Policy include guidance for news organisations and associations to adopt in order to promote equal opportunities for women in terms of recruitment, appointment to leadership positions, remuneration, and training and education; as well as facilitating gender-sensitive work environments and gender-sensitive reporting.
Dr Williette P R O James, the chairperson of SLAJ's Gender Advisory Panel, described the policy "as representative of the views of journalists in Sierra Leone" and that it "will prove greatly advantageous to all journalists, provided all media practitioners put premium on its implementation within their media institutions. It is in the interest of all journalists to own and adopt this document."
Releasing the Policy during the 52nd Annual General Meeting of SLAJ at Dorwaila Inn & Suites in Kenema City, Eastern Sierra Leone, Minister Bah similarly underlined the need for the news industry to ensure the policy is translated into action.
"This is a giant step for the industry," he said in his address. "You have to make sacrifices to get this done."
SLAJ President Ahmed Sahid Nasralla said the policy reflects the diverse realities and aspirations of all media practitioners, irrespective of their gender.
"This policy is an affirmation of our commitment to gender sensitivity and I sincerely thank Dr Sreedharan and Professor Einar for helping us champion this cause," Nasralla said. "We see gender equality and equity not as an isolated endeavors, but as an integral part of responsible journalism. Our shared objective is to contribute to a society where the media is a catalyst for positive change, and where the full spectrum of gender identities finds a dignified place in the spotlight."
The GEP was supported by the Government of Ireland. As well as the work of BU, it was finalised in consultation with media experts from the International Federation of Journalists (IFJ) and Fourah Bay College, University of Sierra Leone, and others.
Dr Sreedharan, who has served as an advisor to SLAJ for the past three years, said BU provided research-informed consultations to the policy, drawing from previous work with journalists in India and Nepal.
Earlier in the year, the BU academics also worked to release Sierra Leone's first media manifesto outlining the future of the media in the West African nation.