An audio documentary co-created by Bournemouth University students on the experiences of those who host Ukrainian refugees has been shortlisted for a prestigious national radio award.
'The Hosts', a compelling narrative of five UK nationals who opened their doors to Ukrainian refugees, has been nominated in the 'News, Journalism & Factual Storytelling' category of the prestigious 2023 Community Radio Awards.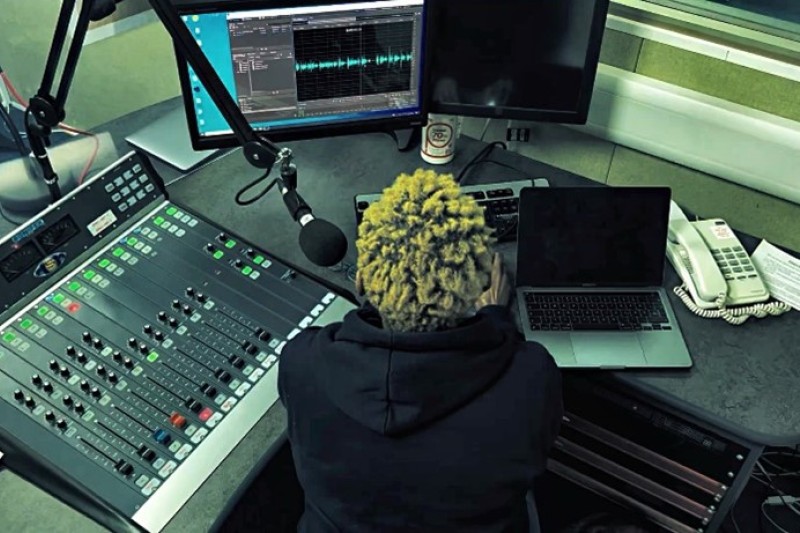 Affiong Bassey, presenter and lead reporter of 'The Hosts'
This recognition places 'The Hosts' in direct competition with outputs from professional journalists.
'The Hosts' weaves together the stories of Kelly, Owen, Carol, Judy, and Helen, who, against a backdrop of parochial political narratives and criticisms of selective empathy, chose to take affirmative action during a time of crisis.
It delves into their motivations exploring what compelled them to welcome perfect strangers into their home. Owen's poignant reflection in the documentary is telling: "You see this news story and it breaks your heart; you feel so powerless but then you're presented with a meaningful way that you can respond."
'The Hosts' was co-created by a student and staff team from The Breaker, the news and features website associated with MA Multimedia Journalism (MAMMJ). Reported across nearly a year by Affiong Bassey, Charlotte Albutt, Aman Singh Gandhi and Delya Apsari, it first aired on 90.1 Hope FM radio on 24 February 2023, the first anniversary of the Ukraine invasion.
Affiong Bassey, who served as presenter and lead reporter, explained the documentary's broader vision: "We tried to go beyond merely pointing out deficiencies. We wanted to see how the situation can be made better for the refugees and hosts. We spoke to experts, and we tried to present options and possibilities that people can adopt at the individual and community level, and also at the policy level."
'The Hosts' was coordinated by Professor Chindu Sreedharan and Jason Hallett of the Department of Communication and Media. The documentary drew from a rich tapestry of research knowledge, incorporating insights from scholarship on representation, peace journalism, solution-oriented reporting, and crisis journalism.
"It is the story of the remarkable resilience and compassion of ordinary people facing an extraordinary situation," said Jason, who together with Chindu, functioned as the executive producer of 'The Hosts'. "It was a privilege to be part of that story, and work with such a talented group of journalists."
Winners of the Community Radio Awards will be announced in Newcastle on 4 November. 'The Hosts' will be judged by 80-90 judges, including professionals working for radio, academics, and the non-profit sector.
"This is a proud moment for The Breaker journalists," said Dr Max Mauro, Programme Leader of MAMMJ. "Last year we were judged the best student website in the country by the Broadcast Journalism Training Council. I am happy that this year we have been shortlisted for a professional award."
Listen to audio excerpts from hosts and experts who feature in the audio documentary.
Find out more about BU's Department of Communication & Journalism.