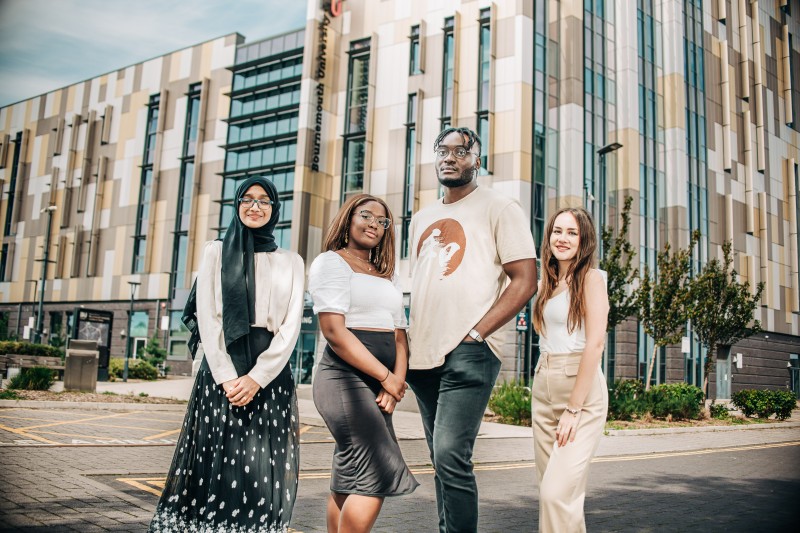 The Students' Union at Bournemouth University (SUBU) is a student-led organisation. Every year, BU students vote to elect a team of four Full-Time Officers - each responsible for a different area. These four students elected into position take a year out of their studies, or after graduating to work full-time with the Students' Union. They help lead SUBU and play an active role in the student community, working to improve the student experience at BU.
After nine rounds of voting in March 2023, Chike Dike, Holly Tyack, Norah Valerie Deka and Fatima Farha were chosen to be SUBU's 2023/24 Full-Time Officers; they have recently taken office and are here to make your time at university the best it can be.
Find out more about the four Full-Time Officers below as well as what they are looking to achieve this year below:
Chike Dike – SU President
Almost a year after completing his Master's in Political Psychology, Chike is back for his second year as a Full-Time Officer. He is zen, ambitious, and well-rounded and likes to spend time at home watching TV shows, writing music, and sleeping.
Chike first got involved with the Students' Union by accident when, on his first day at university, he ended up at the Full-Time Officers' (FTO) office, where he spoke with another FTO who helped him find his way around campus.
His involvement with SUBU did not end there. After a year as VP Welfare & Community, Chike is now leading the FTO team as your SU President. He is working to make sure SUBU is fulfilling its charitable objectives and upholding best practice.
This year, he will focus on supporting students through the cost-of-living crisis, organising more events with CareersBU and diversifying the range of part-time work available to students, as well as on helping international students transition into life at BU seamlessly and prioritising student safety both on and off campus.
The highlight of Chike's experience as an FTO so far was when he was given the opportunity to deliver an address at graduation on behalf of the Students' Union.
And his one piece of advice for new students? "Enjoy yourself! Coming to University for many is a once in a lifetime experience, so live in the moment and create solid relationships."
Norah Valerie Deka – Vice-President Education
Also returning for her second year as a Full-Time Officer is Norah, VP Education. She is cheerful, and spirited and loves talking, playing the ukulele, being a plant mom and drinking bubble tea from Yobu - her favourite spot in town. She graduated last November with a BSc in Psychology and is ready to continue working with students from all walks of life and backgrounds to make sure their voices are heard.
Her biggest focus this year will be on continuing to make teaching accessible for all students by getting lectures to be recorded and subtitled, promoting personal tutors and feedback that works for students. She will also promote academic societies and events to expand students' skills and help them manage academic workload and stress, and work to amplify marginalised/minority students' voices.
The highlight of Norah's time as an FTO so far was the most recent SUBU Awards ceremony, where she got to witness students' excitement about the event and have her own fun throughout the night.
Norah's advice to first-year students is to have fun but not be afraid to ask for help - there are many services and people to support you!
Holly Tyack – Vice-President Student Opportunities
A new addition to the FTO team is Holly, who has just completed her BA (Hons) Social Anthropology and Sociology and is looking forward to graduating in November. She is positive, candid, and diligent and loves spending time at the beach with her friends, as well as dancing and sewing.
Holly first got involved with SUBU when she joined the Ballroom & Latin Dance Society in her second year; after not meeting many people during lockdown, she made lots of friends through her society and later applied to be part of its committee, which gave her relevant experience and knowledge to apply for this role.
As VP Student Opportunities, Holly aims to make the Lansdowne Campus feel more social by creating a larger SUBU presence and organising more events there. She will also work to expand the number of paid placement and graduate opportunities, and work with clubs and societies to increase student participation and support their committees.
Although she may be new to the Full-Time Officer team, Holly's highlights of her experience with SUBU so far was organising and hosting the Ballroom & Latin Dance Society award night. And of course, running in and winning the Full-Time Officer election.
Her one piece of advice to new students is to get involved and try as many things as you can.
Fatima Farha – Vice-President Welfare & Community
Following her role as a Part-Time Liberation Officer while studying for her Master's in Journalism, Fatima has been elected as your VP Welfare & Community this year. She is assertive, passionate, and caring and loves to create chai rituals with her friends, play badminton and spend time at her favourite place in town: Mayrick Park.
Having witnessed that not everyone has a positive experience at university, Fatima is looking to push for change and make BU a better place for all. To do this, she will work to make university housing more affordable and accessible, as well as ensure that mental health support is accessible, effective and inclusive. She also aims to develop SUBU's Allyship Hub and raise awareness of the experiences of marginalised groups.
In her role so far, she has enjoyed the opportunity to ideate and create new projects and will continue to work on creating a supportive and inclusive environment for all students. 
Fatima's advice to new students is not to limit your university experience to the classroom - there is much more university (especially the student union) can offer!
If you want to contact any of your FTOs, you can pop by their office on the first floor of the Student Centre, Talbot Campus, or drop them an email:
To keep up to date with SUBU's activities, follow them on social media @sububournemouth on Instagram, TikTok, Facebook and Twitter.