Eating and Drinking Well: Supporting People Living with Dementia workbook and training film
The workbook and film aim to develop knowledge and skills around nutrition and hydration to provide best-quality care that also offers an excellent CPD opportunity, which can be completed flexibly.
To date, almost 1,200 known recipients of the workbook (including nurses and allied health professionals, hospital and care home staff) have reported benefits and inspired action to reconfigure the way in which nutritional care is delivered.
You can fill in our form to download the workbook; once you have completed it, please complete a short online quiz to receive your Certificate from Bournemouth University. Workbook model answers (pdf 305kb) are available to support the process.
Eating and drinking well with dementia: a guide for care staff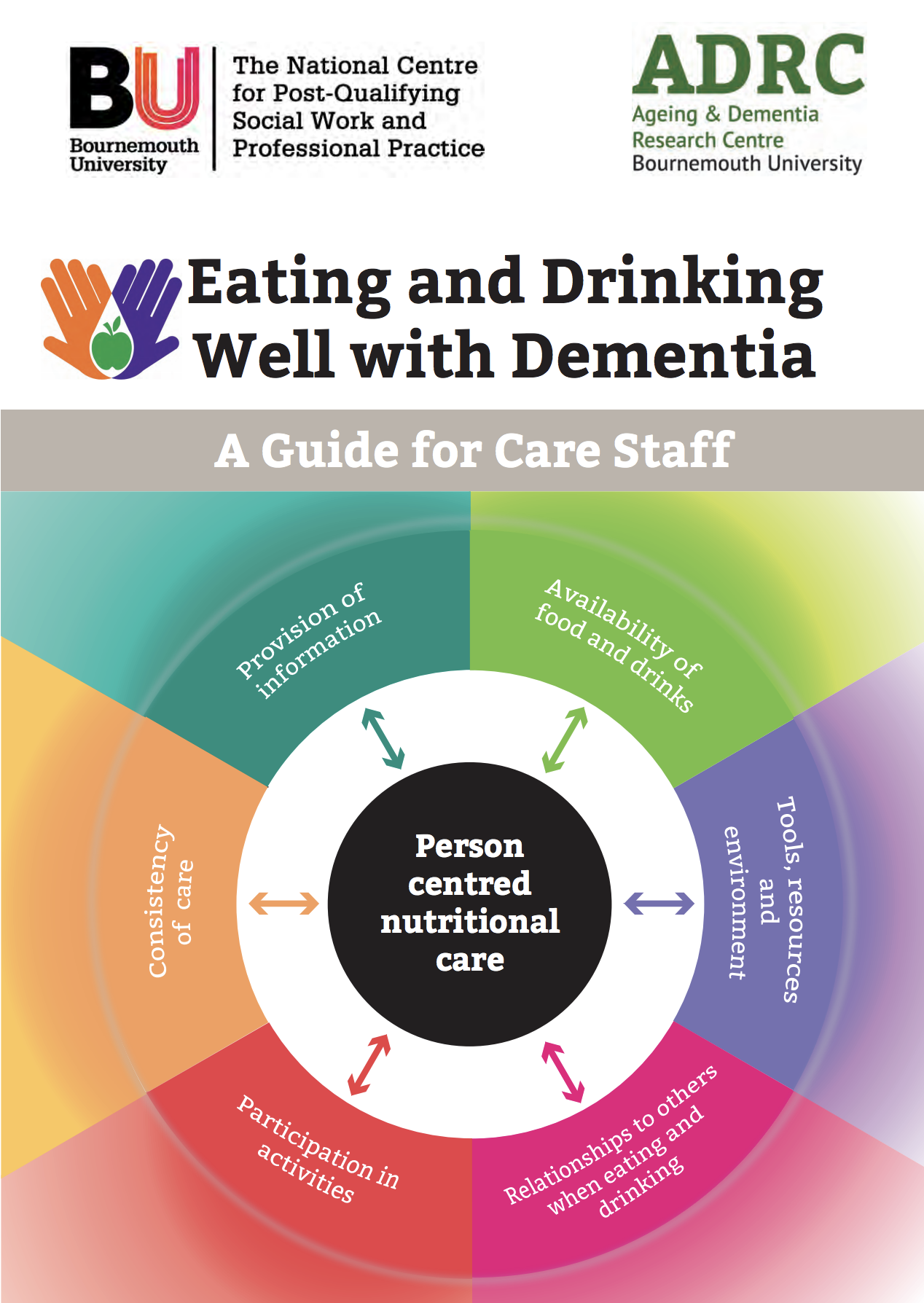 Welcome to this guide on eating and drinking for people living with dementia to help and support care staff.
Good food, nutrition and hydration are important for everyone. We know that eating and drinking can become increasingly difficult as dementia progresses. Therefore every effort should be taken to ensure that food and mealtimes continue to be an enjoyable experience and at the heart of providing person-centred care.
Order the resources
Complete the form to order downloads of Eating and Drinking Well: Supporting People Living with Dementia workbook and Eating and Drinking Well with Dementia: A Guide for Care Staff.
You will need to complete the registration form above and thereafter you will receive an email. On receipt of this email, you can download the requested training resource (the workbook you can complete online and should you wish, you can then print it off).
Should you encounter any problems in downloading the training resources please contact:
Ageing & Dementia Research Centre by telephone 01202 962536 or email ADRC@bournemouth.ac.uk
*The annual CN Awards were launched in 2010 by Complete Media & Marketing Ltd. (CM2) – the publishers of Complete Nutrition (CN) Magazines. CM2 do not endorse any particular individual's, group's, organisation's or company's products, services, resources, views or opinions. For further details on the CN Awards, visit: nutrition2me.com/cn-awards