What is DEALTS2?
DEALTS2 is an innovative, low cost, high impact training toolkit designed to be used by experienced trainers to support the delivery of dementia training.
The simulation approach enables staff to consider experiences from the point of view of a person living with dementia.
Using an experiential learning approach to place staff into the 'shoes of a person with dementia' supports knowledge and understanding of how this condition impacts on the person.
The team hypothesize that 'placing staff into the shoes of a person with dementia' will enable them to make positive changes to how they care and support people with dementia.
Implementation and Evaluation
DEALTS2 was delivered as a train-the-trainer model across England in 2017 to 196 trainers from 13 HEE Local Education Boards, with further train-the-trainer sessions delivered across the south of England in 2018.
The team are currently evaluating the impact of DEALTS2 on practice, using a mixed methods approach to obtain feedback from trainers delivering the materials and staff attending training.
In 2018, DEALTS2 was shortlisted for the prestigious 9th National Dementia Care Awards in the category 'Best Dementia Training Initiative'.
DEALTS2 Toolkit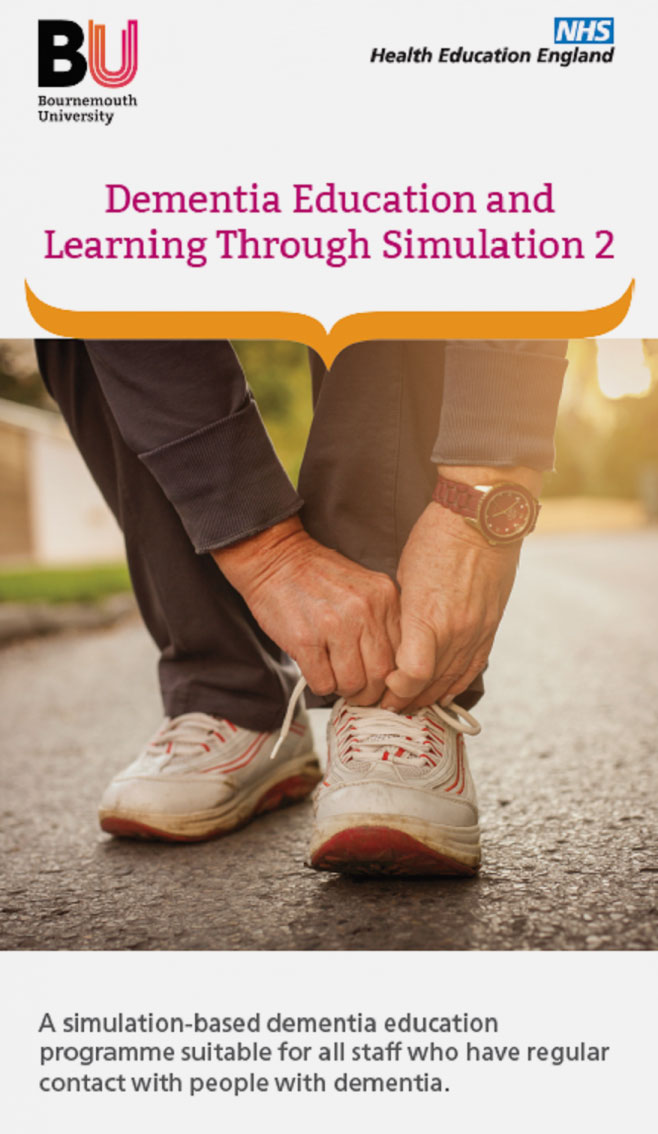 The DEALTS2 toolkit is available to download for free from the HEE website.
The toolkit includes session plans, PowerPoint slides and simulation instructions for trainers.
These resources address three of the 14 learning outcomes for tier 2 training including risk reduction and prevention, person-centred care and communication as outlined in the Dementia Core Skills Education and Training Framework.
Please note in 2018 this Framework was reviewed and updated (after the DEALTS2 resources were published in 2017) to include a number of additions regarding food, drink and oral health and is now the Dementia Training Standards Framework.
Theoretical Underpinnings and Quality Assurance
DEALTS2 is underpinned by the Humanising Values Framework (HVF) a philosophical lens originally developed at BU that identifies potentially humanising and dehumanising elements of care and support.
The HVF promotes humanised approaches to working to support staff morale, as well as improve the care of people with dementia.
The resource package has been quality assured using the hallmarks of good dementia training identified by the 'What Works' research study led by Leeds Beckett University.
This work builds on the original Dementia Education And Learning Through Simulation (DEALTS) programme developed by HEE in 2013/14.
eDEALTS2
The Ageing and Dementia Research Centre at Bournemouth University were commissioned by Health Education England to adapt the Dementia Education And Learning Through Simulation 2 (DEALTS2) programme and develop the e-Learning Dementia Education and Learning Through Simulation 2 (e-DEALTS 2) toolkit.
The e-DEALTS2 programme is a simulation-based training programme designed to support trainers to deliver dementia training online to health and social care staff and volunteers who require Tier 2 training (i.e. those who have regular contact with people with dementia, clinical and non-clinical). 
The underlying principle of the e-DEALTS2 training is to provide opportunities to understand the lived experience by putting attendees into the shoes of a person with dementia.
The e-DEALTS2 toolkit is available to download for free from the HEE website.
Project updates
2022
2021
2020
2019
2018
2017
2016