The Global Talent Programme (GTP) is the BU unique extracurricular award developed with employers and recognised across the sector as a leading innovation in employability and international education.
Being part of the GTP, you will join over 2,500 students across the university to design your next generation career. You will gain access to employer-led workshops, business challenges, digital games, global experiences, e-learning, team assignments and over 100 extra-curricular activities to choose from.
As a student, you are offered the opportunity to earn badges and collect your Global Talent Award in recognition of the work and life experiences you are achieving in addition to your degree.
You will spend an average of 2 hours per week working towards your digital badges using our award-winning portal where you can check your progress, read the latest news, and find 100+ activities and events.
Attend our drop-in sessions 
We're currently running weekly virtual drop–in sessions on Wednesdays, from 1pm-3pm. Please book via MyCareerHub to either chat to us online or to visit us in the Careers Centre at Talbot Campus.
You can also check MyCareerHub for careers service appointments via Skype or phone.
​Join the Global Talent Programme - Sign up | Log in
Find out more
Welcome from the Chief Operating Officer
I am delighted to welcome you to the Global Talent Programme | GTP.
This innovative award, based on latest research and industry insights, is a true reflection of our vision to inspire learning, advance knowledge and enrich society through the Fusion of education, research and practice, and offers the perfect addition to your studies.
Being part of the GTP community, you will join over 2,500 learners across the University to enhance your unique strengths, navigate an increasingly digital and global workplace and design your next generation career.
This year, our popular GTP workshops will bring you inspiring academic and industry speakers and latest trends from the world of work including globalisation, automation, AI, sustainability and diversity to help you build successful online presence and career portfolio, while making the most of the latest high-tech platforms, immersive experiences and tools available at BU.
With 100+ enriching extra-curricular options to choose from - including workplace experiences, overseas adventures, making a difference through community, club and society projects, volunteering, fundraising, enterprise competitions and virtual games -  you can create your own GTP curriculum, while building a strong professional network, and making new friends.
Such experiences will demonstrate that you have solved real-life problems, spotted opportunities, collaborated in diverse teams, and applied creative thinking in complex scenarios which are typical for global enterprises and organisations facing change, political and environmental uncertainty and disruptive technologies.
These new realities call for intellectual curiosity, teamwork, citizenship, collaboration, lifelong learning, research and innovation and new smarter ways of working that build on synergies to impact the wider society.
These are the attributes and skills you will gain by being a Global Talent at BU and will distinguish you as someone ready to step out of their comfort zone to enrich society.
Our programme has been recognised externally for innovation, winning two awards at European and UK forums, confirming the quality of our offer, and I wish you every success on the Global Talent Programme.
Jim Andrews, Chief Operating Officer
How it works
Once you sign up, you will be assigned a number of stages/ digital badges in your GTP portal.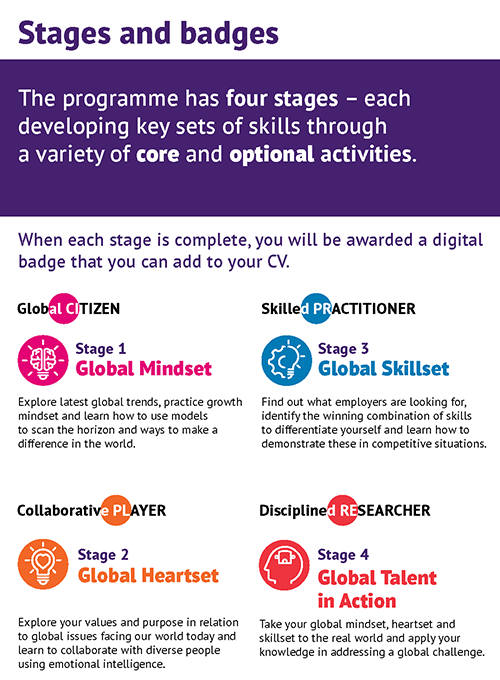 You can choose to achieve individual badges or complete the Global Talent Award over the course of your studies.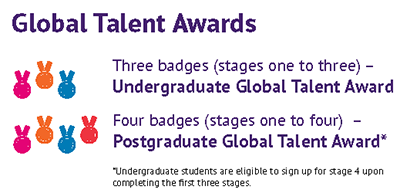 For each badge you will have to complete 3 activities (at least one of them should be core).
GTP Workshops and Activities link to Workshops & Activities page
Sign up | Log in to access 100+ opportunities available to you.