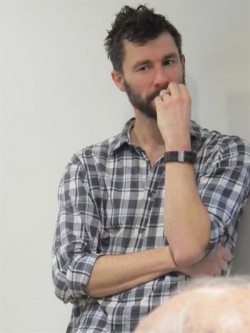 Publications
Journal articles
Drost, C. and Vander Linden, M., 2018. Toy story: homophily, transmission and the use of simple models in assessing variability in the archaeological record. Journal of Archaeological Method and Theory, 25 (4), 1087-1108.
More informationView in BU repository
Gaastra, J., de Vareilles, A. and Vander Linden, M., 2019. Bones and seeds: an integrated approach to understanding the spread of farming across the western Balkans. Environmental Archaeology: the journal of human palaeoecology.
More informationView in BU repository
Harrison, S.P., Gaillard, M.-J., Stocker, B.D., Vander Linden, M., Goldewijk, K.K., Boles, O., Bracannot, P., Dawson, A., Fluet-Chouinard, E., Kaplan, J.O., Kastner, T., Pausata, F., Robinson, E., Whitehouse, N.J., Madella, M. and Morrison, K.D., 2020. Development and testing scenarios for implementing land use and land cover changes during the Holocene in Earth system model experiments. Geoscientific Model Development, 13, 805-824.
More informationView in BU repository
Racimo, F., Woodbridge, J., Fyfe, R., Sikora, M., Sjögren, K.-G., Vander Linden, M. and Kristiansen, K., 2020. The spatiotemporal spread of human migrations during the European Holocene. Proceedings of the National Academy of Sciences of USA.
More informationView in BU repository
Racimo, F., Sikora, M., Vander Linden, M., Schroeder, H. and Lalueza-Fox, C., 2020. Beyond broad strokes: sociocultural insights from the study of ancient genomes. Nature Reviews Genetics.
Books
2009, Departures from the homeland: Indo-Europeans and Archaeology., Washington D.C.: Institute for the Study of Man.
Roberts, B.W. and Linden, M.V., 2011, Investigating Archaeological Cultures Material Culture, Variability, and Transmission, Springer Science & Business Media.
Webley, L., 2012, Development-led Archaeology in Northwest Europe Proceedings of a Round Table at the University of Leicester, 19th-21st November 2009, Oxbow Books Limited.
2014, The Neolithic site of Kočićevo in the lower Vrbas valley, Republika Srpska, Bosnia and Herzegovina: results of the 2009-2014 investigations., Banja Luka: Muzej Republike Srpske.
Saqalli, M. and Linden, M.V., 2019, Integrating Qualitative and Social Science Factors in Archaeological Modelling, Springer.
Grants
Grants
Transmission of Innovations: comparison and modelling farming practices in Europe (EUROFARM). (European Research Council, 1 October 2012). Completed
Rewriting Early Bronze Age chronology in the south-western Balkans: evidence from large-scale radiocarbon dating. (Fritz Thyssen Stiftung für Wissenschaftsföderung, 1 March 2017). Completed
This page is a shortened version of a BU academic profile. To view the complete profile, visit our Staff Profiles site.
Contact details
Senior Lecturer in Archaeological/(Palaeo)Environmental Modelling