A guide has been created to help people identify, monitor and record the use of riot control agents against civilians.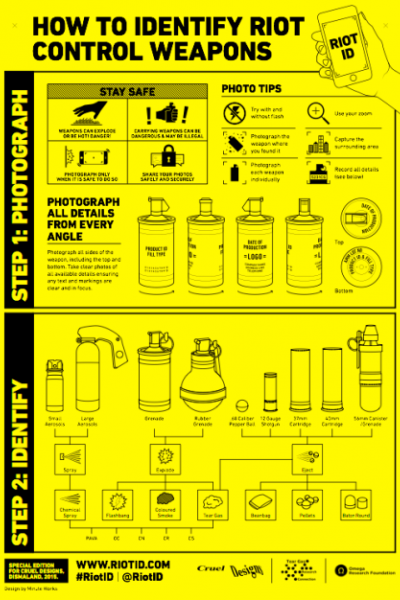 Researchers from Bournemouth University, Birmingham University and Omega Research Foundation have released #RiotID – a civic media guide which features images and instructions on how to safely identify and photograph riot control weapons such as tear gas and rubber pellets.
This week marks the 25th anniversary of the United Nations Basic Principles on the Use of Force and Firearms by Law Enforcement Officials that is meant to regulate the use of riot control weapons.
While regulations and guidelines for the use of these weapons is provided by the UN, there is currently no effective legal oversight or international regulation of their export, trade or use.
#RiotID is designed to help people medically respond, monitor human rights violations, challenge use of force abuses, and identify the manufacturer and country of origin of these devices.
Dr. Anna Feigenbaum of Bournemouth University said: "Every day, around the world, law enforcement officers use tear gas, stun grenades, rubber bullets and other riot control weapons on civilians.  While these devices are marketed as safe and humane 'less lethal' weapons, they regularly cause injuries and even deaths.
"The gap between how police are advised to use these weapons and how they are used in reality is increasing, causing danger to civilians. We designed #RiotID to help close this gap."
The guide has also been made available at Banksy's Dismaland and on the attraction's website, ahead of the opening of the Defence and Security Equipment International (DSEI) fair in London. 
The web-based and downloadable #RiotID guide enables people to photo document and upload images to twitter for identification by a team of experts.
They are available in English and Arabic from the Riot ID website