A team of Bournemouth University (BU) students and staff filmed and live-streamed events happening as part of the Guardian Edinburgh International Television Festival.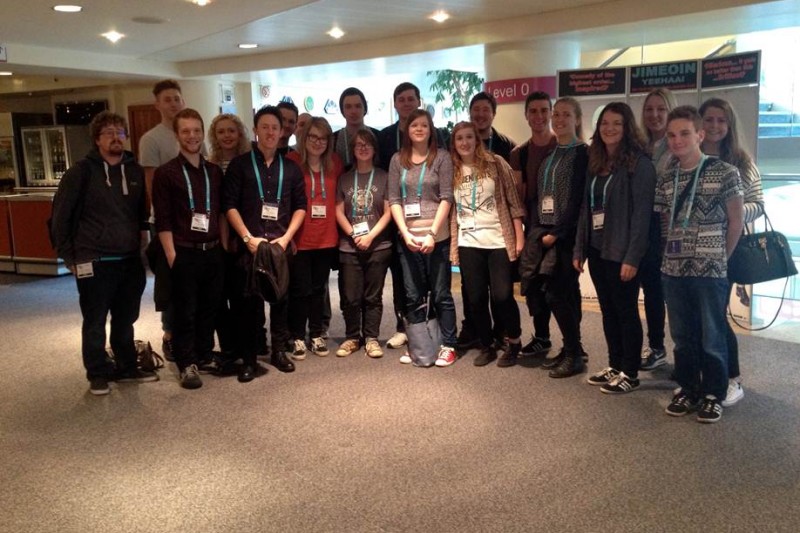 BU's in-house production company, Red Balloon, were appointed as official videographers for the Festival - a prestigious media event which brings together all parts of the television and digital world.
20 second year BA (Hons) Television Production students and seven members of BU staff were in Edinburgh to film almost every event that happened over the three days of the Festival – including the high-profile MacTaggart lecture, given this year by writer Armando Iannucci.
BA (Hons) Television Production student Georgina Caddy worked as a director during the Festival.
She said: "Working as a director in the Edinburgh TV Festival was an incredible experience.
"Looking back I was really lucky with the amount of opportunity I was given. I was not only able to solely direct a highly respected speech in the MacTaggart lecture, which has received over 6,000 views on YouTube so far, but also I directed and vision mixed the Edinburgh TV Award Show hosted by Frankie Boyle.
"I would highly recommend future students to seriously consider this opportunity as not only has it allowed me to broaden my understanding into the professional environment of television but also had given me confidence in my technical ability." 
The team recorded over 60 different sessions during the conference –  with multi-camera crews filming events and debates alongside a roving camera crew recording vox-pops with high-profile actors and industry figures.
Stephanie Farmer, Media Producer for RedBalloon, said: "I had the lucky job of supervising the roving camera crews doing celeb interviews and reviewing editors' work before client release - and generally overseeing the event/client liaison. We had a great time, learnt a huge amount and everyone worked magnificently well as a team under great pressure.  
"The students really took up the challenge and we were very proud of the way they approached the work and threw themselves into the experience.  We were also complimented by the professional crew from Blitz who took time out to congratulate us on the quality of our students and their general attitude and application at the event." 
View the footage filmed and edited by the BU team on the Edinburgh International Television Festival YouTube playlist