New international students at Bournemouth University received a warm welcome from staff, students and local dignitaries at the inaugural International Commencement Ceremony.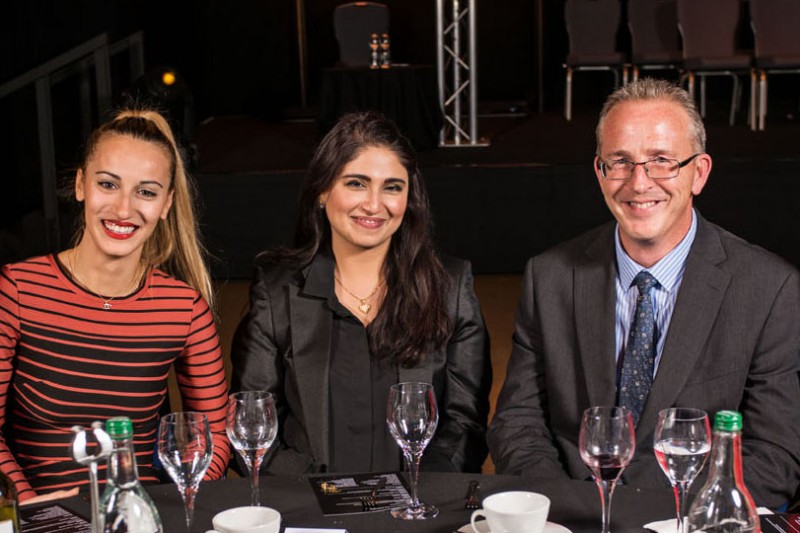 Around 500 international students – from over 120 different countries – attended the event, which took place at the Bournemouth International Centre.
They were welcomed to the University, and to the region, by the Queen's representative for the county, HM Lord-Lieutenant of Dorset Angus Campbell Esq.
He said: "I know you will enjoy the wider welcome and friendliness of the people of Dorset, and I'm more than confident that your time at Bournemouth University will be enjoyable, fruitful and – in the right way – exciting.
"You're truly welcome here in our wonderful county of Dorset. I wish you the most enjoyable stay possible and of course a triumphant and successful academic experience through your endeavours at our outstanding university."
This was the first time that the International Commencement Ceremony had been held, and BU is the only UK university to welcome its new international students in this way.
The event began with a formal ceremonial procession of dignitaries from the university and the region, before international students had the chance to chat and network with each other and BU staff over dinner.
Opening the event, BU Vice-Chancellor Professor John Vinney, said: "I'm particularly pleased that so many distinguished guests and members of our local community have joined us to welcome our new students in person. It just goes to show what a friendly and welcoming place this is to live and to study.
"This evening marks the exciting start of your BU journey and we wanted to mark this very special occasion and celebrate your arrival in a truly stylish and memorable way."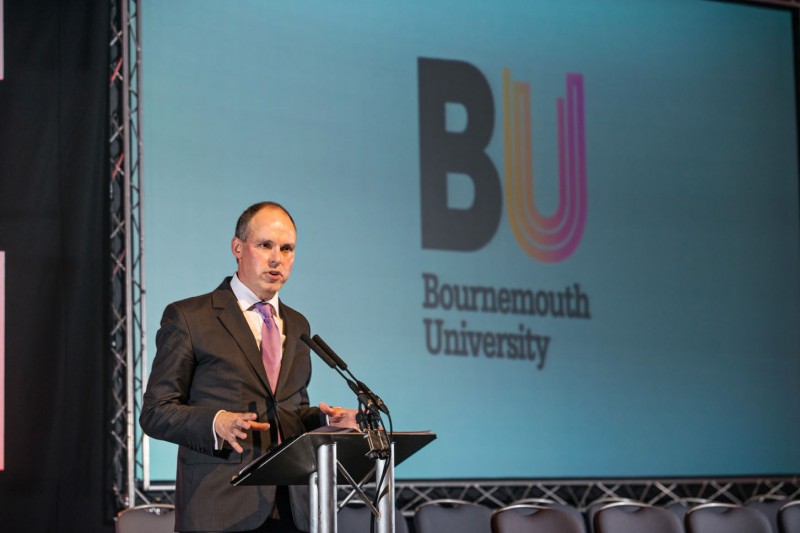 Visual Effects supervisor and BU honorary graduate Dr Paul Franklin gave the keynote speech at the event.
Paul, who has received Oscars for his work on the films Inception and Interstellar, said: "The interchange and exchange of ideas from people all over the planet is happening right here in this wonderful place where you are learning, having new experiences and building the foundation for the rest of your life.
"You're very much at the beginning of an amazing part of your life – grab it with both hands and take full advantage of everything Bournemouth University, this wonderful place, has to offer you."
Local dignitaries in attendance at the ceremony included the High Sheriff of Dorset; the Mayors and Mayoresses of Bournemouth, Poole, Dorchester, Christchurch, and Weymouth and Portland; and the Sheriff of Poole.
BU Pro Vice-Chancellor for Global Engagement Dr Sonal Minocha, said: "We wanted to welcome our international students in as special a way as we say goodbye to them at graduation.
"We decided to hold the ceremony in the same venue as graduation to help them visualise this journey and celebrate its commencement in a truly special way.
"The event was about welcoming and celebrating the next generation of international students and global talent for our region and nation in our own unique way."
International students attending the event enjoyed having the chance to meet with each other and university staff.
Parisa Raei, a MSc Information Technology student from Iran, was sat on a table with BU's Vice-Chancellor and the Lord-Lieutenant of Dorset for dinner.
"It was wonderful because I could meet other new students and had the chance to speak to the Vice-Chancellor and other famous people," she said. "It was so exciting and they were really nice and kind."
"It's really helpful because it's a good environment for being relaxed and speaking about your experiences and your subject and getting good advice about everything you'll need during your studies."