BU student volunteers will join three residents from Care South's Fairlawn care home in Ferndown to cheer on AFC Bournemouth at their match against Tottenham Hotspur this Sunday.
The complimentary tickets are part of Care South's community partnership with AFC Bournemouth, which began in 2014. Ahead of the game, the students - first year Occupational Therapy students Joe Hesketh and Charlotte Leckie and first year Law student Alice Phillipson - visited Fairlawn yesterday to meet the residents over a cup of tea.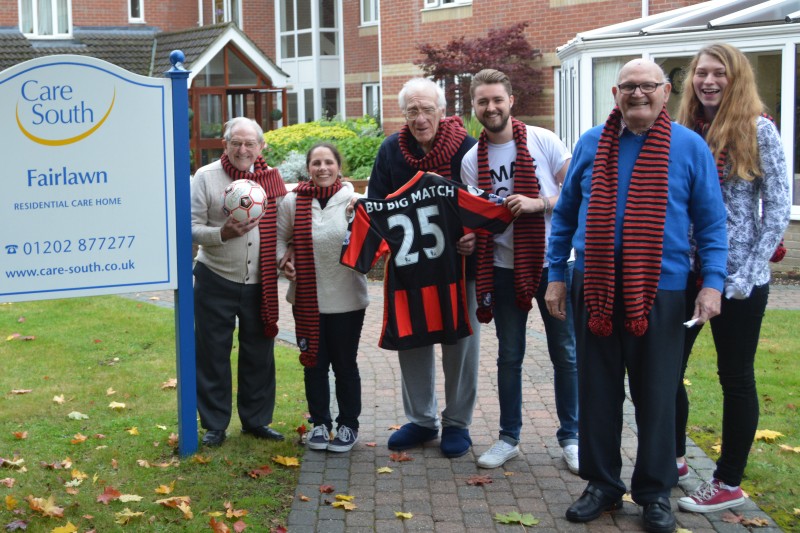 They are part of a group of volunteers from Bournemouth University who organise a wide range of activities in the local community, with students contributing thousands of hours of their time to support.
Neil Dominy, Home Manager at Care South's Fairlawn, said: "Our residents are thrilled to be attending such a high profile match on Sunday! The three that we have chosen are all big fans of the Cherries and can't wait to see their team in action. We were also very happy to welcome the students from Bournemouth University into the home. At Care South, it's very important to us that our residents remain an important part of their local community and continue to meet new people."
Hannah Wiseman from the volunteering and green impact team from SUBU (Students' Union at Bournemouth University) Volunteering, said: "Students at Bournemouth get involved in a wide variety of ways in the local community making a positive difference to the area in which they are studying. Opportunities like this, where football is bringing people together across different generations, also increase students' understanding of the wider community and it is great that the partnership with AFC Bournemouth is making this possible."  
The match promises to be an extremely exciting one, with the Spurs fighting for Champions League qualification in their first competitive visit to Vitality Stadium. The Cherries will continue their mission to remain in the top tier of English football.
Charlotte Leckie said: "It was great to meet the residents and get to know them ahead of the match. I'm really looking forward to it now. 
"It's nice to have an opportunity to do something different with them, something that's quite exciting and that they are going to enjoy." 
Bournemouth University is the official Higher Education partner of AFC Bournemouth. The student volunteering link up with Care South is part of a week of activity to mark the second anniversary of the partnership, around the theme of the BU Big Match.
The BU Big Match will highlight how the partnership is reaching audiences in the UK and internationally, as well as showing BU's commitment to the region and the contribution staff and students make to the wider community.