Bournemouth University students benefit from the university's partnership with Premiership football club, AFC Bournemouth, through work placement opportunities, community projects and volunteering opportunities.
But another benefit of the partnership is the Premier League-level coaching that BU's men's and women's football teams receive from AFC Bournemouth coaches.
Steve Cuss, Head of AFC Bournemouth's Community Sports Trust, coaches and manages BU's varsity teams, bringing with him a wealth of experience as he also coaches local club Wimborne Town FC.
AFC Bournemouth has been coaching the men's side for the two previous seasons, and the women's team for one. The spoils of that high-level coaching showed in the results - Men's 1st and 3rd teams won their respective leagues, with the 1st team reaching the BUCS National Trophy Final. The women's team also won their league, gaining promoting, and also made the Conference Cup Final.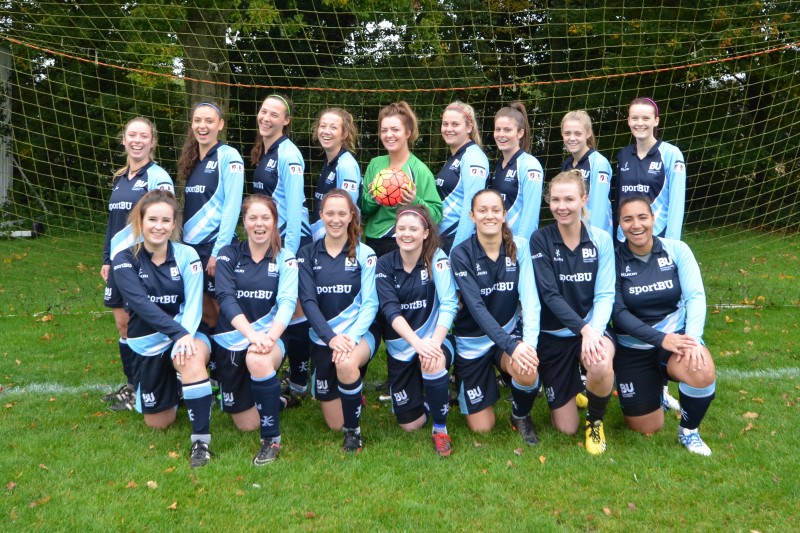 This season BU's student footballers will be sporting the BU and AFC Bournemouth Higher Education Partnership logo on their sleeves as they take on the competition in their new leagues. And the coaching has already paid off with two of BU's teams getting a win this week; Women's 1st team beat Exeter 3-1 and Men's 2nd also defeated Exeter 4-0. 
Steve Cuss and his team of coaches will be guiding BU's student athletes through their new challenges this season. He commented, "It has been a privilege to work with BU's football teams this past year, and I'm really proud of their successes. We are all looking forward to season ahead now, where I hope we will continue to bring success!
"It has been great to work with Bournemouth University as a part of the partnership, not just on the footballing side but also with the community work we are doing, and I'm really looking forward to continuing this in the future too."
Barry Squires, Sports Operations Manager at sportBU, said, "With the support of AFC Bournemouth's excellent coaching staff, Bournemouth University football club has flourished with numerous cup and league successes. In the past couple of years they have established themselves in the top tiers of British University football and look forward to continuing this run of success into the future, as well as joining forces on a number of community projects.
"This season will be a good one for both BU's football teams and the Cherries I'm sure."
Men's 1st team captain Franklyn Clarke, who studies Sports Psychology and Coaching at BU, also plays for Steve Cuss' Wimborne Town team and women's captain Chloe Tape is part way through a year-long placement at AFC Bournemouth where she will be working as Project Co-Ordinator for the Community Sports Trust.
Chloe will be responsible for two projects, including one working with girls aged 14+ to get them participating in sport, as well as working with local schools.