Freshly appointed Professor of Sport, Alison McConnell delivered her lecture at AFC Bournemouth's Vitality Stadium to an audience of students, university staff, and sport and healthcare professionals. Entitled, "Pitchside to Bedside: Can world class sport help to create world class healthcare?", it explored the benefits that sports science can bring to medical science and vice versa.
Traditionally inaugural lectures allow newly appointed Professors to celebrate their achievements and share their research with the friends, family, colleagues and members of the public. The new BU lecture series aims to do just that and also to highlight the world-class research undertaken by the university's staff and share their expertise in a wider professional environment.
Professor McConnell's lecture examined the potential 'trickle-down' effect of elite sports training and research into healthcare applications, citing the relationship between F1 car design to road car design as the model. She then went on to talk about different concepts and ideas which could be used to improve both athletic performance and health in patients.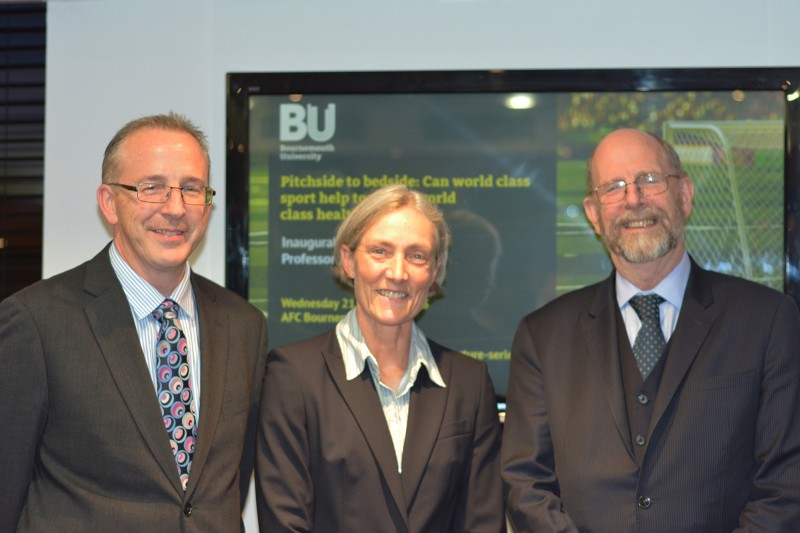 Referencing her previous work into Inspiratory Muscle Training and work on the Power Breathe, she commented: "My own research is a revolving door between sport and health, with research in each camp leading to benefits for both."
She described her interest in the subject, "As a scientist with a foot in both the sport and the health camps, I see obvious synergies between the goals of athletes and the goals of ordinary people who want to avoid ill health. What is less obvious is why this win/win is not being exploited.
Despite the shared goals of athletes and clinicians, there appears to be no system to allow, let alone encourage, insights gained from elite sport to 'trickle down' to ordinary people. This seems like a wasted opportunity at a time of urgent need."
Professor McConnell's lecture was the launch event for a number of Inaugural Lectures by BU professors which will form part of a series hosted a various venues throughout the academic year.
In his introduction, BU's Vice-Chancellor, Professor John Vinney, praised Professor McConnell, saying: "Alison embodies what we talk about at the university called fusion – a blend of education, research and professional practice – to provide this exciting combination of activity where the whole is greater than its component parts."
Professor John Fletcher, Pro-Vice Chancellor for Research and Innovation at BU, said: "We are proud to be launching our new public inaugural lecture series and to have this opportunity to engage with the wider community on our research and how it impacts on the whole of society."
"Our research is innovative and exciting and makes a real difference on an international stage as well as within our local Dorset community and across the UK. We are delighted to be sharing highlights of our research through our new public inaugural lecture series."
Speaking after the event Professor McConnell said, "I'm really pleased with how it went. And it's a great honour, obviously, to be invited to give the first inaugural public lecture. I think it was well-received and I enjoyed the audience questions and it's made me want to do another one."
The event also tied in with the week-long BU Big Match activities which celebrate the Higher Education partnership between BU and AFC Bournemouth. The activities will culminate on Sunday 25 October at AFC Bournemouth's home match against Tottenham Hotspur.