Health and Social Science graduates descended on the Bournemouth International Centre (BIC) to receive their degree awards during the first of Bournemouth University's graduation ceremonies.
Among the graduates was honorary doctorate recipient Liz Yelling, who was recognised for her contribution to health initiatives, running and the local community.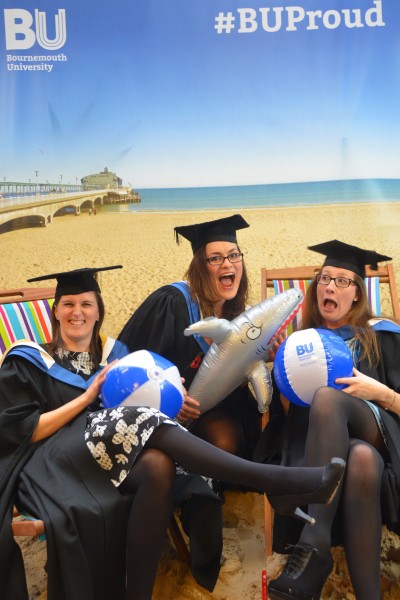 Around 4,000 students will be graduating from Bournemouth University over the course of the week, with students studying the Health and Social Science courses graduating on Tuesday 3 November 2015.
Professor John Vinney said, "Graduation is one of my favourite times of year, as it is a chance to stop and celebrate the achievements of our excellent graduates, who have worked hard during their time at BU and thoroughly deserve their awards.
"Many of our graduates have gone on to become top business leaders, work on Oscar-winning films and enrich the communities they live and work in through their successful careers. A degree from Bournemouth University will give you a great start on your career journey and I have no doubt that our latest graduates will go on to be very successful too.
"We wish all of our graduates the best of luck, but I want to encourage graduates old and new that wherever you are, we hope you will keep in touch with Bournemouth University, which will always be a place that its alumni can call home."
Honorary doctorate Liz Yelling, an Olympic athlete who won the bronze medal for the marathon at the 2006 Commonwealth Games in Melbourne, said at the ceremony, "My advice to the students today is to follow your dreams and your passions, to get out there and chase it. You might not end up there in the end but I think the path towards your dream will take you on an amazing life adventure. Go for it, follow your dreams – that's what we're here for and you've got to enjoy it."
Since retiring from professional running, Liz Yelling has turned her hand to running a sports performance company with her husband Martin, is an ambassador for Julia's House Hospice and is a supporter of local running initiatives such as the Bournemouth Marathon Festival and the growing parkrun movement.
Wednesday's ceremony will focus on the Faculty of Management, Thursday is the turn of the Faculty of Science and Technology with BU's graduation ceremonies culminating on Friday with the Faculty of Media and Communication.
To relive the ceremony, you can check out our roundup video on YouTube:
A roundup of the graduation ceremony for the Faculty of Health and Social Sciences.