BU undergraduate students have produced an animation to explain nano materials for CNN's 2020 Visionaries project.
Alongside their other coursework, the group of nine students, mostly in their second year, spent two months on the visualisation of the work of Professor Julia Greer at the California Institute of Technology (CalTech).
BU was selected for the project by the commissioning editor at CNN for its status as one of the leading universities for animation in the world. The international news network also approached several other prominent schools, with the idea of commissioning "visionary animations" to describe the ideas of visionary scientists. In total six short animations were commissioned as part of the 2020 Visionaries project.
The choice of project was down the schools and universities involved so the BU team chose the project with the most time available for production. Dr Richard Southern Head of Education at BU's National Centre for Computer Animation (NCCA), explained: "I think CNN was mostly used to producing 2D animations (using AfterEffects software) which can be produced in a couple of weeks. A full CG production like this one ended up having nine students working on it solidly for two months."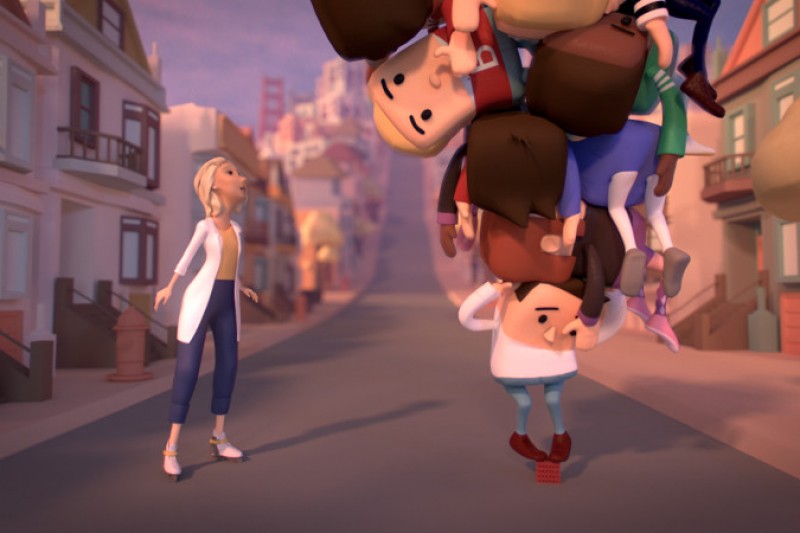 In the clip Dr Greer explains how nano materials are constructed and what their properties and potential uses are using fully rendered 3D animated characters. Working together the team had to come up with creative ways to convey those ideas and they developed an original and innovative colour palette and recognisable style to communicate the concepts.  Everything seen on the screen during the animated clip was created by the students: preproduction work (designs, colour palette, storyboard, cinematography) and production work (modelling, rigging, texturing, animation, effects, compositing and rendering).
Dr Richard Southern selected the students who took part in the project. He said: "Being broadcast is its own reward.
"If the final animation was not up to a satisfactory standard then it would not have been broadcast, but the commissioning editor said: "Richard I'm so impressed with this! Fantastic effort and bravo you and your team!" so they were happy."
He went on to praise the students' work, saying: "Indeed, looking at the other animations ours is considerably better than most in terms of technical complexity and visual beauty."
You can watch the clip called Lightweight and strong: Nanomaterials revolutionize how things are built and find out more about the 2020 Visionaries project on the CNN website.