A new facility to support and protect victims of burglary and theft has opened today, Friday 01 April, in Winton.
The HomeSafe Crime Prevention Project is a collaboration between Dorset Police and the LifeCentre in Winton, sponsored by Bournemouth University.
The project aims to support victims of crime, specifically local residents who have been burgled or a victim of a theft by providing them with advice and products to enable them to feel safe and secure in their own home and the local community.
Local residents will be able to attend the HomeSafe shop, based within the LifeCentre, on Wimborne Road, during business hours, to find recommendations of reputable tradespeople, access support and purchase products to assist with repair and home security. The facility is open for anyone in need of the services.
Ian Martin, Site Facilities and Events Co-ordinator at the LifeCentre, said, "This is an important new project, providing solutions for the local community to ensure that people feel safe and secure in their own homes, and while they are out and about. The LifeCentre already has a lot of footfall within the community, and is the home of Bournemouth Community Church.
"We're all proud to work in partnership with Dorset Police and Bournemouth University to provide this valuable resource for local residents."
Ian Jones, Head of Regional Community Partnerships at Bournemouth University, said, "We were approached by Dorset Police with a view to doing something specific in the Winton area. We were only too happy to help as we continue to support the local community in Winton.
"It is also an important resource for our students, many of whom live in the Winton area, who should be taking steps to prevent such crimes taking place in their own homes by using such resources to ensure their houses are safe and secure, the same as anyone who lives and works in the local community."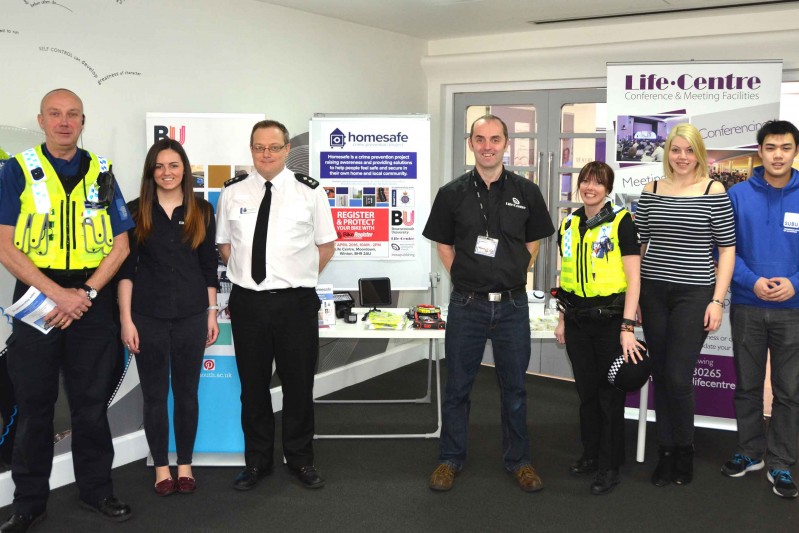 Inspector Andy Edwards, of Bournemouth Neighbourhood Policing Team, said, "Dorset Police is proud to work with the Life Centre and Bournemouth University in providing affordable crime prevention advice and equipment to members of our community.
"All items have been approved by Dorset Police's Crime Prevention Officers and kindly paid for by Bournemouth University and Bournemouth Borough Council. They will be available for victims of crime and those who feel vulnerable to purchase at affordable prices from the Life Centre from today.
"We hope that through raising awareness of this initiative we can reduce criminality in the local area by ensuring people have the right knowledge and tools to prevent themselves from being targeted by criminals."
Users of HomeSafe will be able to purchase products including bike and house locks, floodlights and alarms, at a discounted rate, to ensure homes and properties in the area are safe and secure. The facility will be open within the LifeCentre during business hours. 
The project officially launched at the LifeCentre on Friday 1 April 2016, which took place between 10am – 2pm. For more information, visit http://www.lifecentre.biz/.