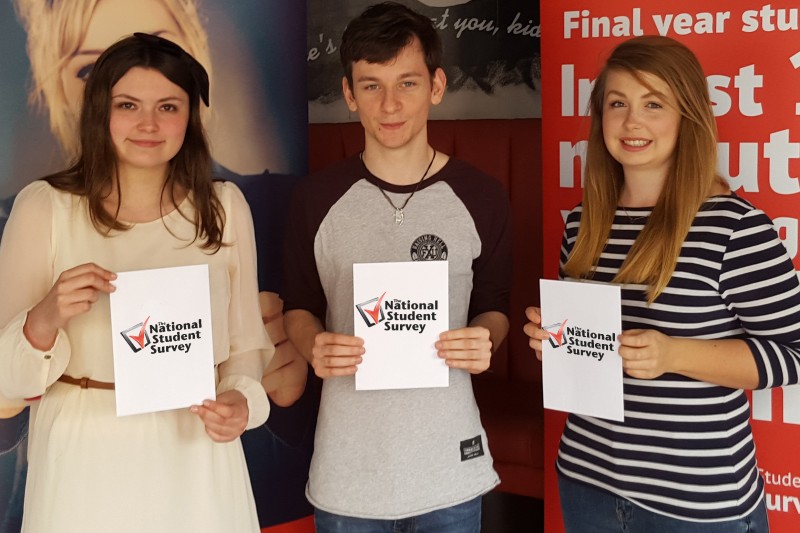 Congratulations to the lucky winners of the National Student Survey (NSS) prize draw, who came to a presentation today at SUBU's Engine Rooms.
Prizes included cash, a made-to-measure suit from local business, Fox Tailoring based in Canford Cliffs, and a top of the range iPad Pro, purchased from local Solutions Inc in Bournemouth town centre.
Final year BSc (Hons) Adult Nursing student, Alice Smith, won the iPad Pro and said "I've had a great time at BU and am looking forward starting my job at Salisbury District Hospital in September. My laptop has finally given up after writing so many assignments for my course, so winning the iPad Pro couldn't have come at a better time!".
Philip Small, BA (Hons) Media Production student, added "It's going to be great having a tailor made suit for work, and I'll definitely be wearing it to my graduation ceremony".
The NSS is open to all students on BU courses, including those delivered at BU Partner colleges. Rebecca Finch, FdA Creative Multimedia Design student from Bournemouth & Poole College, travelled to Bournemouth with her dad to receive her £200 prize saying "I'm really excited to win this prize and can't wait to pursue my dream of being a writer, although I expect I will continue with my animation work as well".
Dr Barbara Dyer, Chair of the Student Voice Committee and interim Deputy Dean Education & Professional Practice in the Faculty of Media & Communication at BU, presented the prizes to the lucky students, who were drawn at random by Ipsos Mori – the company the government commissions to run the survey.
Today's event also celebrated an excellent NSS response rate with 75.46% of all eligible BU final year undergraduates completing the survey, slightly higher than the national average. The results will be published later this summer.
Barbara explained "It's so important for our students to complete the NSS – getting this feedback each year really helps BU to understand the student experience and to make sure we adapt as the needs of our students evolve."
All UK universities complete the NSS. It provides valuable insight into the student experience, so that universities know what works well and what might need improving. Results are also publicly available to prospective students and their families to help them make informed choices of where and what to study. The NSS 2016 results will be published in August.
Congratulations to our winners and thank you to all those students who completed the NSS. SUBU's Engine Room's is one of the locations where students can redeems their £3 voucher 'thank you' voucher offered for completing the survey.