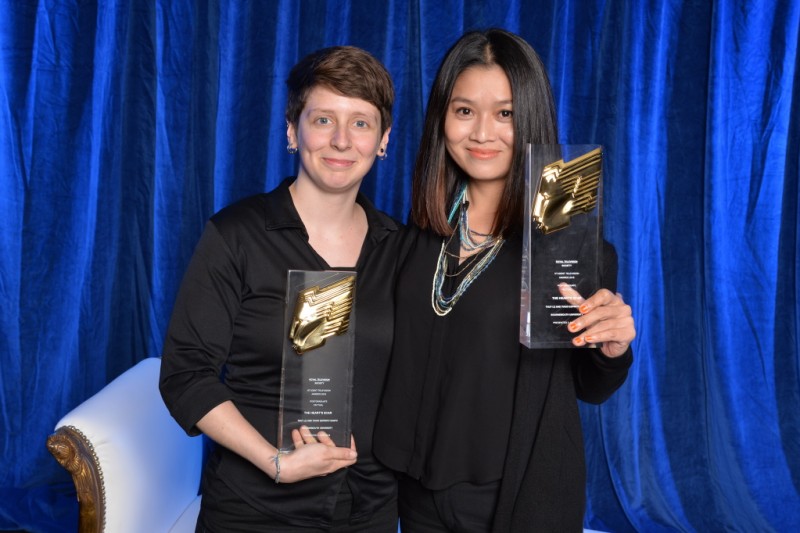 Three postgraduate students have won a Royal Television Society (RTS) Award for their film.
Thuy Le, Sofia Aguiar and Tiago Espirito Santo scooped up the Postgraduate Factual Award for their film, The Heart's Scar. Chaired by Philip Edgar-Jones, Director of Sky Arts, the Royal Television Society Awards celebrate the best in student talent from across the UK each year.  
The Undergraduate and Postgraduate Awards are judged in six categories – Animation, Comedy & Entertainment, Drama, Factual, News and Open. In addition, to reward excellence in craft skills, Undergraduate and Postgraduate Awards are presented for Camerawork, Editing and Sound.  The winners were announced at a ceremony, hosted by comedian Mark Dolan, at the British Film Institute (BFI), Southbank. 
Judges in the competition commented on The Heart's Scar, saying it has "… poetic style, sensitivity and an epic story… its many compelling moments were held together with expertise."
BU students, Antonios Vallindras, Daphne Gassaldo, Alberto Olivieri, Betty Inegbenebor and Ana Catarina Pinheiro were also nominated in the Postgraduate Comedy & Entertainment category for their entry, The Life of a Sober Man.
Mark Bond, Lecturer in Cinematography, taught one of the BU winners. He said: "It has been a privilege to teach Tiago Esparto Santo. He has been a dedicated cinematography student, always prepared to challenge himself and experiment; Tiago understands the importance of visual storytelling, which is reflected in his creative approach to filmmaking and the distinctive look he brings to all of his cinematography work." 
Mark went on to comment: "The Hearts Scar is an innovative, sensitive and beautifully crafted film and I am pleased to see this film recognised by this RTS award."
Karl Rawstrone, Framework Leader for MA Media Production at Bournemouth University, spoke before the awards ceremony. He said: "It's excellent news for our Postgraduate Media Production courses and all the staff and students involved should be very proud of their achievements.
"Students from all over the world come and study with us at postgraduate level are aware of BU's reputation in delivering the next generation of creatives to the film and broadcast sectors, not just in the UK but internationally. These nominations are further evidence to support that reputation."
He added: "All of the students included in these prestigious nominations have demonstrated that both creatively and professionally they are operating at the highest standards in their fields and I congratulate them all."
All the nominated and winning student films will be available to watch on Sky Arts On Demand later this year.