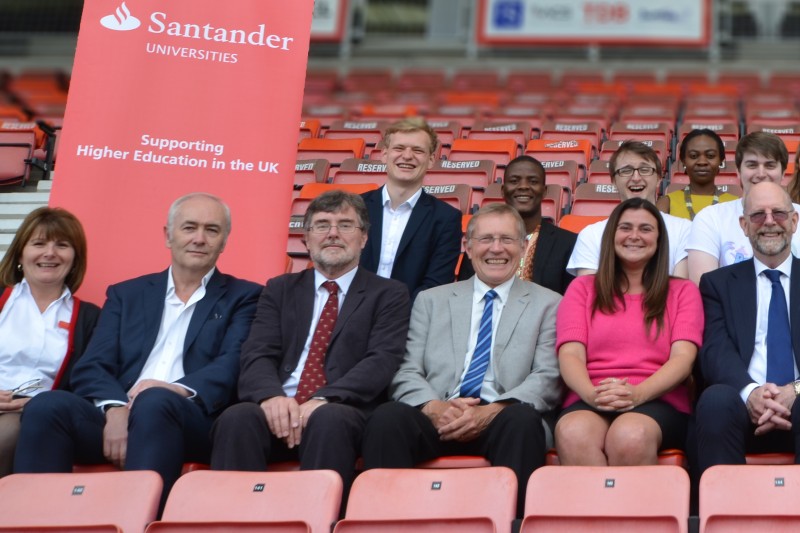 BU's aspiring student entrepreneurs were invited to pitch their ideas to local businesses at the Santander-sponsored event.
At Pitch at the Pitch students had the chance to win prizes of £1,000 for their business ideas, which were judged by a panel of entrepreneurs and experts.  
The event took place at the home of Premier League AFC Bournemouth, celebrating BU's partnership with the football club and allowing the students and panel members to experience walking through the player's entrance to the pitch.
The students put forward 10 business ideas, including new creative technologies and mobile applications, with five selected by the panel of experts to win the £1,000 cash prizes. In addition all the students who took part were awarded a year-long membership to the Institute of Directors by BU's Careers & Employability Service.
The expert judging panel was made up of Lucy Cooper from Dorset Growth Hub; Mark Homans from Santander Universities; Nick Hixson from Hixsons Ltd; Professor Nigel Jump and Professor Jim Roach from BU; and Richard Davies from Platinum Property Partners.
Professor John Fletcher, Pro-Vice-Chancellor for Research and Innovation at BU, spoke to the finalists saying: "There were lots of applications for this challenge so you should be proud to have made it this far and I want to thank Santander's Universities department for their investment in university innovation and entrepreneurship. Looking ahead, support is available from the Dorset Growth Hub for new business ideas from student entrepreneurs and I recommend taking advantage of this opportunity."
Mark Homans, Santander Universities Regional Manager for the South West, said: "There was a real level of enthusiasm and passion among the students who pitched, and Santander are proud to be able to offer the cash prizes to the winners from our £12m education fund, investing in the future directors of SMEs and start-ups."
Mark also had some advice for the students: "You won't get it right all the time, and you won't win every pitch. But that's ok. Failure can be good. Failure helps you learn. You'll learn to get better and refine your products – and your pitches."
Prize winner and CEO of start-up business Rebourne Studio Jonathan Ridgeway Tweeted: "Honoured to be one of the winners selected today. I learnt so much and received some great business advice."
Students interested in discussing business ideas can visit Louise Soan, Santander's university branch manager, at the Talbot Campus throughout the year or contact Louise on [email protected].  
BU has strong links with businesses and offers all undergraduate students the opportunity to undertake a work placement as part of their course. BU students have a high employability record, with 93.3% of BU graduates in work or further study six months after graduating, according to the latest Destinations of Leavers from Higher Education (DLHE) survey.