Books & Stories, is a ten-week reading scheme for pupils in Years 5-8, which aims to improve attitudes towards reading in the South through BU Ambassadors leading one-hour weekly sessions at local schools.
The programme, which was developed by BU in 2013, is now delivered by the Southern Universities Network across Bournemouth, Southampton, Winchester and Portsmouth, and uses texts from a variety of popular children's authors including J.K Rowling and David Walliams.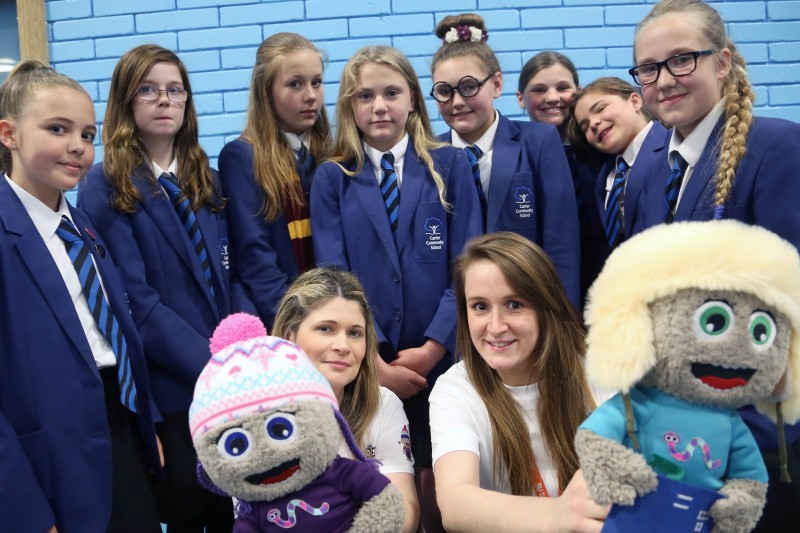 Student Ambassadors encourage reading via a variety of speaking and listening activities, as well as written and creative tasks, which are supported by resource kits. Success in schools using the scheme is measured by the use of questionnaires, and reading age data collated before and after the ten-week duration.
The programme was celebrated by staff and students at BU, as well as 78 pupils and teachers from: Hamworthy Junior School, Elm Academy, Kings Park Academy, Kinson Primary School, Bourne Academy, Glenmoor & Winton Academy, Carter Community School, St Aldhelm's Academy and Oak Academy. Storyteller Emily Grazebrook attended the day, sharing urban myths as well as providing a dramatic depiction of the folk legend, The Pied Piper of Hamelin.
Assistant Headteacher at Kinson Primary School, Mandy Craven, said: "The scheme is aimed at supporting children who find reading a challenge; it's to increase their enthusiasm and develop their reading and comprehension skills. The scheme is not aimed at children with a very low reading ability, but those who just need a little help to get them on track.
"It's very attractive to us because we are constantly looking at how to support all of our students. What's really good is that we are involved in all stages of planning, so it wasn't just something that would come in and be done. Session feedback meant that we could support some of what was happening within the sessions in our own teaching. More importantly, the children's confidence and attitudes towards reading improved."
Fourth-year BA (Hons) Business & Management student, and Ambassador, Aaron Hayfield, said: "I'm one of two ambassadors who worked with children at Kinson Primary School. We were teamed up to guide the children through the book Billionaire Boy, as well as breaking each hour up with fun activities.
"I'd never considered working with kids before, but it's been really enjoyable – the group have been brilliant, and have just embraced it. They loved trying news reporting and acting. It was great to see them work through the book, and I was able to watch them take so much from it so it's been quite rewarding."
Books and Stories Coordinator, Sally Baker, said: "The scheme is now in its third year and it has been fantastic to see the pupils develop in confidence and make progress in their reading abilities. This is our first Celebration Event and we are delighted to have the participants on campus, working with our Student Ambassadors and taking part in a range of activities. Many of them are seeing a university for the first time and we hope this will inspire them to consider Higher Education as an option for their future."
She added: "Across all 11 schools in Bournemouth and Poole, there was an average improvement in reading age of 10 months in 10 weeks and some pupils' reading age increased by as much as 3 or 4 years."
Kate Holmes, Outreach Officer at Bournemouth University, added: "This scheme really goes to show what a big difference can be made with just a few extra hours of reading with children.  Using our university Student Ambassadors to deliver the scheme in a fun and engaging way has been key to its success." 
She added: "The pupils who took part will be better and more confident readers and that's going to benefit them across the whole curriculum."