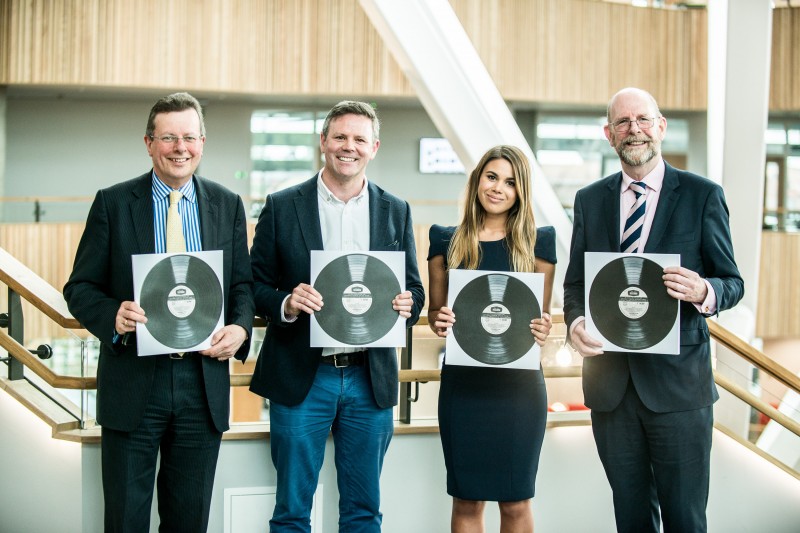 Created by BU student Leanne Kent, For the Record highlights the creative and digital scene in Bournemouth.
The book was the brain child of BU graduate and founder of agency Think Create Do, Matt Desmier who wanted to showcase the creative work happening in the local area.
Created in collaboration with Bournemouth University (BU) and Bournemouth Borough Council, it contains interviews with the directors and founders of thirty local digital and creative agencies. In recent years Bournemouth has become a hotbed of digital talent and the town was hailed the fastest growing digital economy in the UK in a 2015 Tech Nation report.
BU's Pro Vice-Chancellor (Innovation & Research) Professor John Fletcher opened proceedings at the book launch, commenting on BU's successful graduates and Bournemouth's growing digital sector. Leader of Bournemouth Borough Council, Councillor John Beesley also spoke at the launch event, alongside George Beverley and Leanne Kent from Think Create Do.
The publication was project-managed and produced by BU student Leanne Kent. After seeing Matt Desmier speaking at a conference about the need to showcase local digital and creative talent, Leanne approached him and asked to create the book as her final year project.
Leanne spoke about completing the project, she said: "I feel amazing, I feel really proud because the university's hosting it. I spent three years studying here and was able to produce this, which the university is supporting so generously and it's a really nice tie-in."
Since finishing her BA (Hons) Media Production Leanne has been offered a full time role with Matt and his team at local creative agency Think Create Do. 
At the event Councillor John Beesley spoke about the importance of digital creatives to Bournemouth's future. He said: "I'm really thrilled by this production. I suppose it's the culmination of all the things I tell people about the digital and creative sector."
"I'm out there trying to make people understand economic development in Bournemouth, trying to make sure that inward investment follows and obviously graduate retention. The work being done at BU is increasingly at the top of the agenda and something we're all very proud of."
George Beverley, one of the partners at Think Create Do, the agency behind the publication explained what the project meant to them. He said: "We can share this project with FTSE 100 companies and they can start to see the tangible projects that the Bournemouth companies can achieve.
"I think more importantly it does champion collaboration. Rarely do you get local government, academia and business coming together to support such a project. For us, that's the biggest takeaway from the project."
The launch event was attended by some of the creative agencies who featured in the book, many of whom are BU alumni. BU graduate Andy White is the Technical Director at Uprated. He commented on the local scene: "It's a cracking area, both the university and working here afterwards. I have ended up coming back to the area because of this industry especially as it's one of the top places in the country."