Businesses at a major Brexit summit in Dorset hailed 'confidence' as the vital factor in forging a successful future outside of the EU.
The event, hosted at Bournemouth University, and held by Dorset Chamber of Commerce and Industry (DCCI) was attended by more than 130 people.
Entitled 'Brexit: What Next for Business?'; the event focused on the need for greater Government consultation and communication with the business community to end uncertainty and boost belief in the economy.
Professor John Vinney, Vice-Chancellor of Bournemouth University and DCCI chief executive Ian Girling welcomed delegates before panellists gave an insight from their sector and the floor was opened for questions.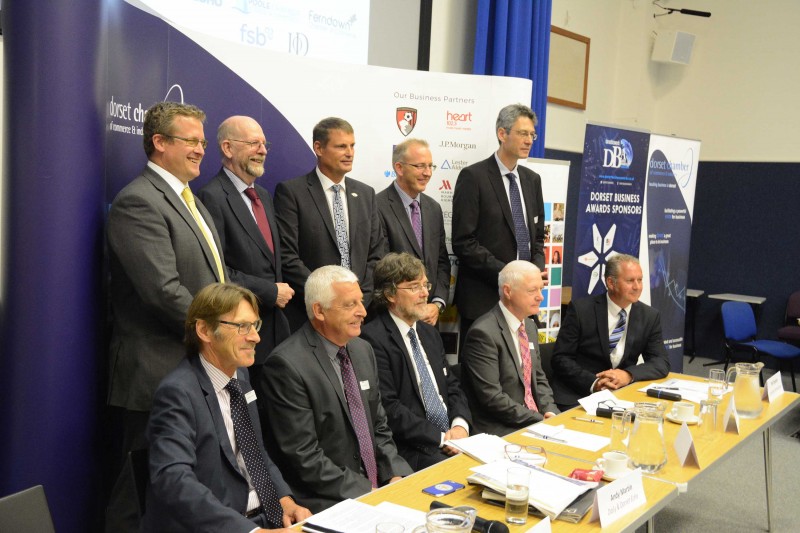 The panel of business leaders comprised BU economist Professor Nigel Jump, NatWest head of corporate Anthony Donohue, Savills (UK) Ltd senior planning director Richard Shaw, Daily Echo editor and head of news Andy Martin, Steele Raymond solicitors managing partner Peter Rolph and Sunseeker International chief executive officer Phil Popham.
Issues raised included trade negotiations, timeframes, red tape, consultation, confidence, communication, the media, economic stimulus, procurement and Government action.  A show of hands by attendees also revealed that most were positive about the future.
Professor John Fletcher, pro vice-chancellor for research and innovation at Bournemouth University, said: "On June 23rd the UK came to a crossroads and chose which of the two paths it would follow.  Unfortunately, since then it has travelled down the new path looking over its shoulder at the path it is about to leave behind.  It needs to look forward along the path it has chosen and not try to hang on, or replicate what it has left behind.
"Now is the time to look for brand new opportunities, opportunities that it had never considered before because it was looking towards Brussels.  Yes, there will be difficult challenges, but we need to find the positives ahead.  This event was intended to encourage people to look forward for those opportunities, not back."
Ian Girling, DCCI Chief Executive, said: "It was a fascinating debate covering a great many areas and it was incredibly valuable to hear the views and concerns from different perspectives.  Greater communication with the government came out as a key message and the role of confidence was also identified as crucially important.  It is vital that our politicians have a strong understanding of the views of the business community.  We must look forward with confidence."
He added: "It was another successful event with a great turnout and a very strong panel. I wish to thank Bournemouth University, our partners, the BCC, all of the panellists, and business people who attended."
BU's Professor Nigel Jump spoke as a part of the panel about the potential economic implications of Brexit but also said that fundamental weaknesses in the economy – including the need for higher productivity and greater international trade – still needed to be addressed.
The audience included DCCI board members, DCCI Business Partners, Christchurch MP Christopher Chope and Poole MP Robert Syms as well as director level members.