A Bournemouth University (BU) student has received the Intern Superstar of the Year award from Virgin Media for the work she did during her placement year at the company.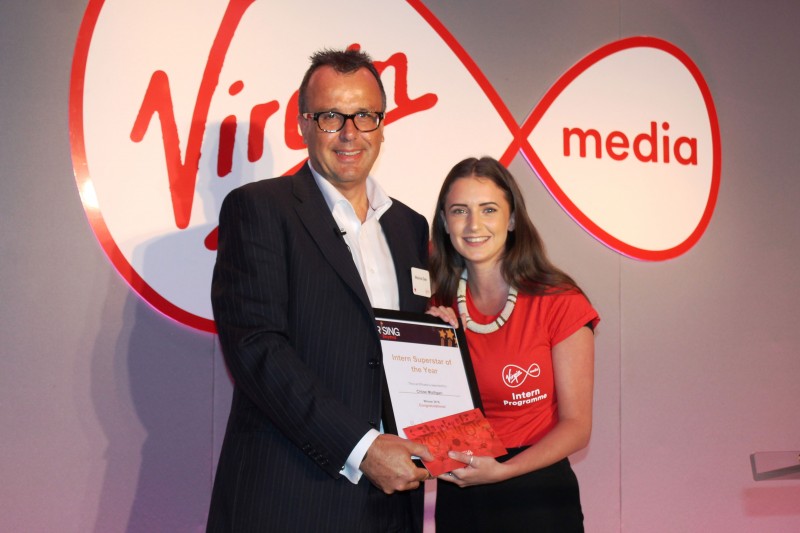 BA (Hons) Business Studies student Chloe Mulligan received the award for her work as an Insight Analyst while on placement at the company. 
During her placement year Chloe tracked and monitored the performance of Virgin Media's network, presenting findings and investigating potential cost and efficiency savings.
 
Her work did not go unnoticed, and Chloe was awarded the Intern Superstar award at Virgin Media's annual Rising Beyond awards, where managers and team members can nominate those who've gone above and beyond.
 
"There is only one intern award, and there were 29 nominations, so it was really satisfying to be acknowledged on that level," said Chloe.
 
"I was nominated by my manager, by my Head of Department, by my Director, so my achievements have been recognised all the way up the chain and it was really nice to have that appreciated." 
 
Chloe added that the opportunity for every BU undergraduate student to complete a placement year was one of the reasons she chose to come to the university, and that her placement experience had been invaluable.
 
"I loved the idea of having a year out from studying to work and get some practical experience to add to my CV," she said.
 "I've started to truly understand what I do and don't enjoy doing and see the types of work done within different departments. I'd never had this insight without my placement"
She added: "My motivation to achieve has massively increased since working within a fast-paced corporate environment, and this will only benefit me when heading back to BU for my final year studies.
"On a personal level, I feel I've grown up a lot this year, I'd had real responsibilities at work and been relied on to produce on time, this has increased my professionalism and organisation ability which will be nothing but useful in final year."
Her advice to other students includes embracing placement opportunities and getting the most out of the year in industry.
"If you're considering a work placement, I'd 100% recommend you take the opportunity. The benefits are endless and they'll put you in such a better position compared to someone without the same experience when applying for future job roles, especially graduate positions.
"Remember to focus on what you want out of a placement year, as much as you're there to do a job, you also need to enjoy it and develop yourself."