EU AniM, held at BU's Executive Business Suite (EBC), looked at how CG animation could evolve with the onset of more powerful new graphics processing.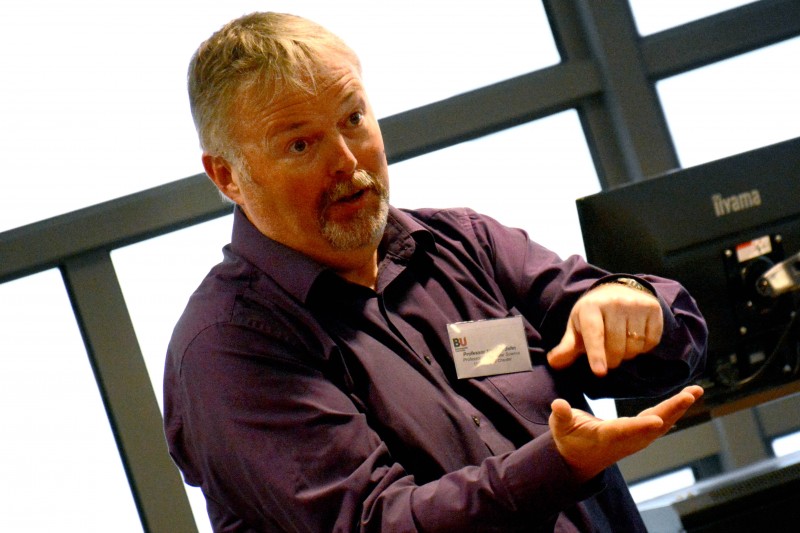 Chaired by Jian Jun Zhang, Professor of Computer Graphics at the National Centre for Computer Animation (NCCA) at BU and funded by the European Union's Seventh Framework Programme for research, technological development and demonstration, EU Anim included a keynote presentation from Professor Nigel John, Senior Research Professor at the University of Chester and a panel discussion.
Professor John's keynote, "Real Time Computer Graphics for Surgery Simulation", looked at how virtual learning environments could be improved in areas around healthcare, including virtual surgery and disability training.
He said: "It's always good to have an opportunity to collaborate with colleagues in related fields; using similar technologies in different ways - It's good to have that interchange of ideas, and share ideas with likeminded people."
"I'm interested in medical training and adapting technology aimed at the gaming market for more serious use like how to train a medical procedure. It has a benefit for patients, surgeons, and it's obvious there's good motivation to do it."
Marie Curie Senior Research Fellow at BU, Hui Liang, who co-hosted the event, said: "The workshop included EU projects and research from China. I talked about my research into computer animation technology and intelligent data management. A lot of people from universities also came to share their knowledge with us. Nigel did an amazing job with his keynote – he introduced a lot of technology. I liked his use of a leap motion controller and haptic devices for simulation."
To read more about the project, please visit: www.euanim.org.