Next spring, Bournemouth University (BU) will be welcoming undergraduates from all over the country to present their research as part of the British Conference of Undergraduate Research (BCUR).  The prestigious annual conference is a chance to celebrate the valuable contribution of research from undergraduate students across a vast array of disciplines and subject areas.
Undergraduates from all disciplines will be invited to submit papers, posters, workshops and performances as part of the conference.  Abstracts will be peer-reviewed and those accepted will be invited to attend the conference, which is taking place in Bournemouth 25 – 26 April 2017.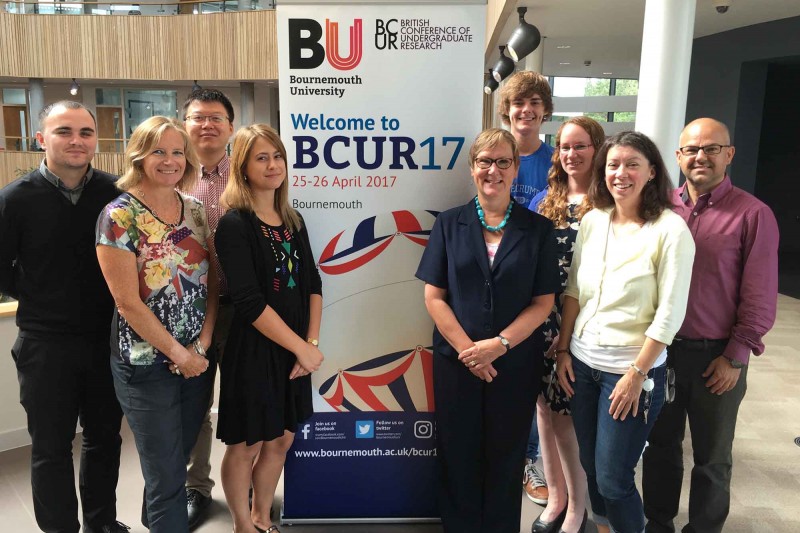 Professor Gail Thomas, Head of BU's Centre for Excellence of Learning says, "BCUR is an excellent opportunity to highlight the research successes of undergraduates from all over the country.  It gives undergraduates their first taste of an academic conference, as well as giving them the opportunity to develop their communication and presentation skills.  It's also a great place to network with other researchers."
"Undergraduates will be invited to present research from any aspect of their course," continues Professor Thomas, "Many will have had the chance to carry out independent research, whether for a dissertation, an assessment, working with an external company or working with a researcher on a particular topic.  If you're unsure about whether your work fits, it's best to talk to your tutor first to find out how you can get involved in BCUR."
Professor John Fletcher, Pro-Vice Chancellor for Research and Innovation at BU comments, "We are delighted to be hosting the next British Conference of Undergraduate Research and look forward to welcoming undergraduates from all over the country to showcase their research."
"Research is a key driver of economic growth and makes a difference to all aspects of society, so we are keen to celebrate the successes of our next generation of researchers.  Here at BU we really encourage our undergraduates to get involved in research throughout their studies.  Our unique fusion of education, research and professional practice is at the heat of the BU experience, so we hope to see plenty of our students representing BU at BCUR next year."
The deadline for submitting abstracts has been extended until Friday 20 January.
For more information about the conference and details of how to write your abstract, visit www.bournemouth.ac.uk/bcur17.