The hospital team, which undertook an 18-month project involving patient groups and team analysis to reconfigure its patient services, raised standards from 'good' to 'outstanding'.
The Practice Development Unit accreditation looks at maintaining and developing excellence in practice, leadership management, meaningful and effective engagement of users and carers, supporting the care team and evaluating practice development.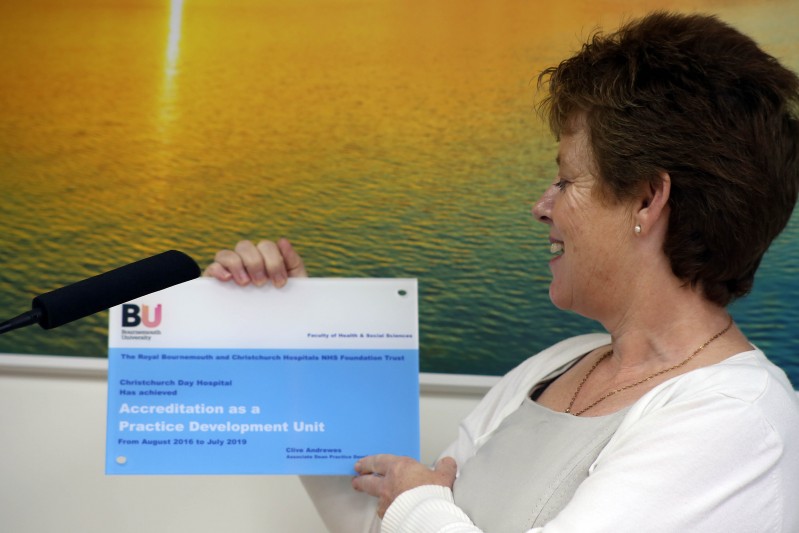 The PDU Accreditation plaque was presented to the Christchurch Day Hospital Team by Michele Board, Senior Lecturer in Nursing Older People, in the Faculty of Health and Social Sciences at BU. She said: "I'd like to say thank you. Thank you for letting me be a part of the team in this journey – you've been so welcoming. It's great to see people who, at the end of their hand, have a patient and want to make a difference to the service.
"It's been fantastic to see how patients come first here in this service. The patients really do feel at home here and are really valued, regardless of their age and diagnosis. Thank you to the trust for investing in the PDU, and for allowing the team and broader directorate team to contribute to the BA (Hons)/MA Care of Older People and a number of students on that programme."
Kathy Bluston, Rehabilitation Lead at Christchurch Day Hospital, said: "We're very proud to have achieved this award, not just in gaining certificates, but in what it has meant to make this journey, coming together as a team and questioning what we do.
"That's the great thing about it – we look at what we do and ask why we do what we do, and question whether there's a better way of doing things. I think it's very easy sometimes if you've got a part of your service that's not working properly that you just want to find a 'plaster solution' to just stick over it – what you need to look at is what you're doing and why."
Vanessa Mason, Associate Director for Older People's Medicine and Integrated Care at Bournemouth Hospital said: "It's been about staff being empowered by the partnership with the university to make the changes that they know are going to improve the services, in partnership with patients.
"It's not about targets, action plans and tick-boxes, this is about genuine things that are going to make a difference to improve the services that matter to patients. The PDU gave the staff a structure and a recognition that they could use with the permission to do the things they wanted to do.
"What normally happens in change is that managers lead and get the credit – this genuinely recognises the contribution that staff can make, which is quite a different way of looking at things. We're really pleased and proud; we want to take the vibe and spread it much further in older people's services to get the wards engaged. It develops staff as well as the service."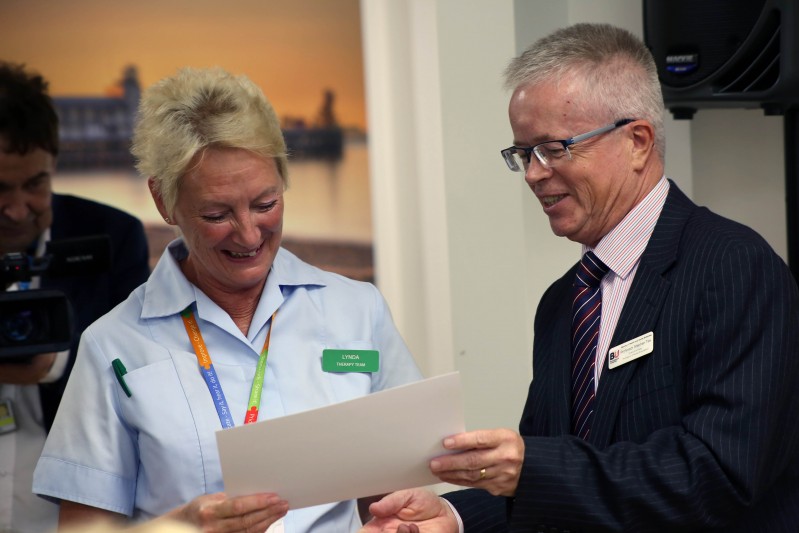 Clive Andrewes, Head of Practice Development at BU's Institute of Health and Community Studies, said: "From a university perspective, three or four things stood out, there is a genuine partnership between patients and staff – all the projects were decided and evaluated together, which is quite unusual.
"They also have really strong leadership within the unit, supported by trust leadership, which we don't often see linked together. The team of leaders from across the trust and the team have been really impressive. The whole team took part and it's been a privilege externally as a university to see how they've applied standards to get to where they are."
Patient Janice Gibbs, an integral member of the Christchurch Day Hospital Team's 'PDU' Patient Focus Group, also spoke at the event: "There is always a smiling face here; the staff at the day hospital are genuinely committed to their patients. They listen to us. We feel very privileged to have been part of the PDU Accreditation."
The opening of the new Christchurch Day Hospital is a key milestone in the tust's 'Health Village' development. The trust is working with experts and key partners to develop a hub providing coordinated care for patients across hospital, care home, sheltered living accommodation services and more beyond, all on one site. To find out more, please visit www.rbch.nhs.uk.