A 6,000-year-old prehistoric burial monument has been uncovered northeast of Cirencester in the Cotswolds by archaeologists from Bournemouth University.
Believed to be around 1,000 years older than Stonehenge, the massive mound 60m long by 15m wide, was carefully built of soil and stone by the first farmers living in the area around 4000 BC. It provided a resting place for the dead and a symbol of identity for the living.
The barrow was first noticed about ten years ago and has since been studied through a wide range of geophysical surveys and evaluations that confirmed its identification. In the summer of 2016 proper excavations began with a team of around 80 students, graduates and archaeologists from across the world working to explore the stonework of the mound and define possible chambers inside the structure that might contain burials. Traditionally, up to 50 men, women and children were buried in such monuments over a period of several centuries, long before the discovery of metal working.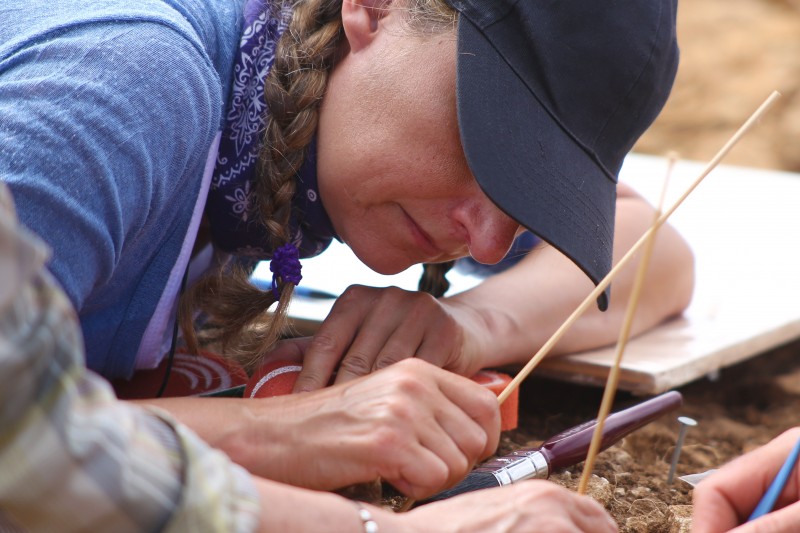 Leading the dig, Professor Tim Darvill, Director of the Centre for Archaeology and Anthropology at BU, said: "It's very exciting to have found this barrow because of the opportunities it offers for researching the first farmers on the Cotswolds. Long barrows were amongst the first substantial structures to be built in Britain – the earliest monumental architecture we know of. Previously unknown examples do not turn up very often and no barrow like this has been excavated for more than 20 years. It really is a fantastic opportunity to bring to bear some of the recent advances in archaeological and anthropological science in order to find out more about these sites."
He added: "There are so many questions to be asked, but the most important are the simple ones. Who built these great stone monuments and were prepared to invest so much time and effort in their construction? Where did they get their ideas from? How were they built? When were they built? Why were they built? And can we get to know something of the beliefs held by the communities that used them and were ultimately buried within them?"
Archaeology graduate Charlie Scovell, who joined the dig, said: "It's been great. We've been camping in the field right next to the site. We've got a long barrow which is quite a special opportunity – you don't get to dig a pristine long barrow in this way that often, so I'm really lucky to be here!
"Practical experience is key really – for me, it's the way that I learn. I think getting out and doing as much field work as possible is really important."
BU Senior Lecturer in Forensic and Biological Anthropology, Dr Martin Smith, led the specialist team dealing with the burials: "We had a cattle skull placed in what we call the 'forecourt' of the monument – a wide arena edged by a tall façade at the front of the structure where we think various sorts of ceremonies and communal rituals would have been performed. This seems to be a theatrical space.
"Before the Neolithic, when people are living by hunting and gathering, even a really good hunter could probably only share their kill with eight-ten people. But once people started farming things changed. By growing crops and herding animals, good farmers who looked after their gardens and livestock could build up really big herds and surplus produce in a way that allowed some individuals to become more wealthy than others. Were these the people buried in the long barrows? Or was everyone given a place there? These kinds of social questions are matters that we hope this new site will shed new light on."
Second year archaeology student Luke Jenkins also used the site as part of his dissertation, looking at areas that are currently unexposed by trialling a new form of archaeological exploration using an auger to bore small holes that allow measurements of what lies below the ground surface. Data taken from the holes is then interpreted and used to create a 3D model of the below-ground structures. Luke said: "This is an idea that I've been mulling over for a couple of years. The study is gradually showing up what we want to see, which is ideally a Bronze Age round barrow a few metres away from the massive long barrow.
"It differs from a formal excavation in that you're not taking out large trenches: you're effectively doing keyhole surgery using the archaeological equivalent of a large drill. You don't see the end picture until it is uploaded into a computer. The idea is that it doesn't ruin archaeology – you're building up a model without doing anything destructive."
Due to resume in the summer of 2017, attendees and those interested in the dig should contact project leader Professor Tim Darvill on [email protected].