The ceremony, which played host to around 500 students, saw the Queen's representative for the county, HM Lord-Lieutenant of Dorset Angus Campbell Esq, invite them to enjoy the Jurassic Coast and beauty of Dorset.
He said: "As Her Majesty's Lord-Lieutenant of Dorset, it's my particular pleasure and privilege to welcome you all to the United Kingdom on behalf of Her Majesty the Queen.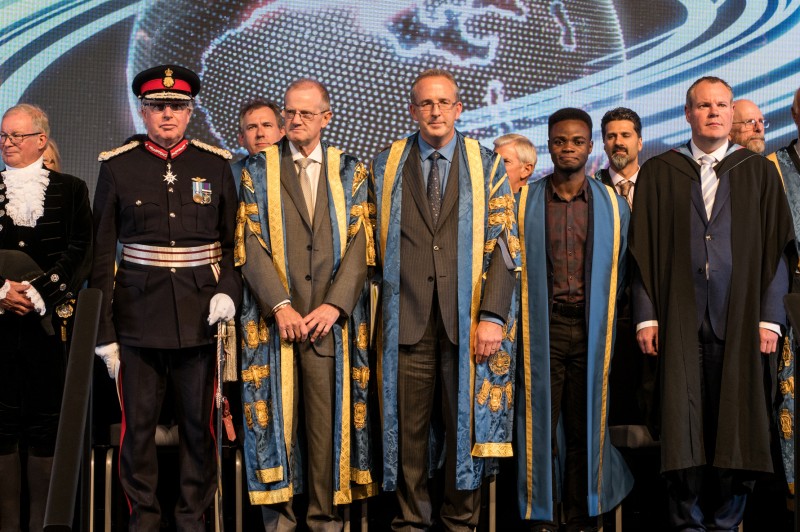 "I'm quite confident that you will enjoy your stay and your studies in this, our most beautiful and vibrant county, which is renowned for its magnificent Jurassic coastline, representing 185 million years of geological and paleontological history."
The event, held at the Bournemouth International Centre's Purbeck Hall, began with a formal ceremonial procession of dignitaries from the university and the region, before speeches, after which international students had the chance to chat and network with each other and BU staff over dinner.
Opening the event, BU Pro-Vice Chancellor, Dr Sonal Minocha welcomed guests in eight languages, before inviting the next generation of global talent to commence their journey at BU.
She said: "Seeing you all here tonight has a very personal and emotional resonance for me. I truly know the distance you've travelled and how you are feeling tonight. My own story began as an international student in the UK. I remember only too well my first day, my first week, everything seemed strange – the food, the weather, the accents.
"I soon realised that this was the best choice I could have made: Great Britain truly is the land of education, knowledge and a place that celebrates and cultivates talent. No matter where that talent comes from and no matter which passport that talent holds."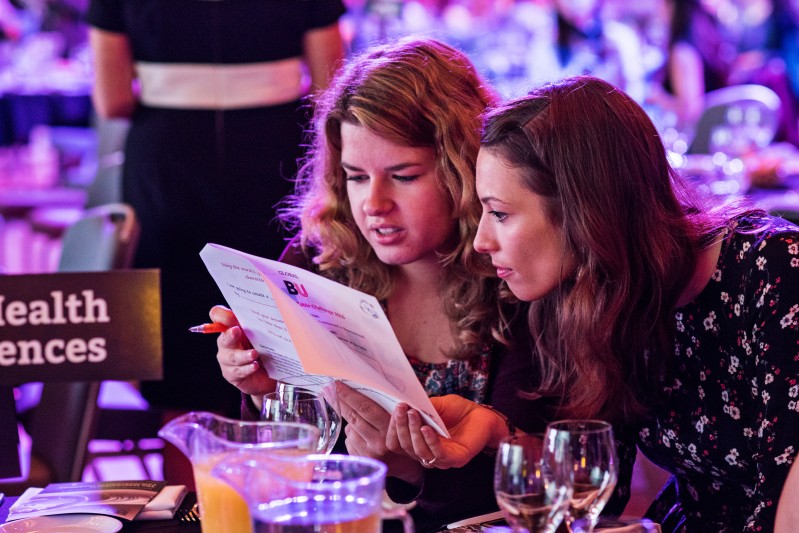 Vice-Chancellor Professor John Vinney said: "I'm particularly pleased that so many distinguished guests have chosen to be here in person to welcome you to the country and to the region. It just goes to show what a friendly and welcoming place this is, both to live and to study.
"If I may say so, I think you've made an excellent choice – an excellent academic choice and also an excellent lifestyle choice in choosing to live and study here. This evening marks a very special and exciting start to your journey at Bournemouth University – your journey to BU is over and your journey with BU has now begun."
Among the guests were the mayors of Bournemouth and Poole, as well as Bournemouth West MP Conor Burns, who said: "When I was elected to serve as a member of parliament for Bournemouth West six years ago, the first speech that I made in the House of Commons was on the subject of student visitor visas.
"I recognise the enormous importance and contribution that foreign students make not just to our local economy, but to the cultural diversity of our United Kingdom.
"I hope many of you choose to stay here, you will be invaluable links between our great country and the countries from which you come. Thank you for being here and thank you putting your faith in Bournemouth and in Britain."
SUBU President, Daniel Asaya, a former international student himself, said: "I remember how anxious and nervous I was when I was at ICC, but by the end of the evening, I was so happy and excited when I realised how far this university is committed to their students, and making them feel at home.
"I always acknowledge the fact that leaving friends and family to study overseas takes courage, but you are not alone.
"You are in the right place, so believe in yourself and don't let anyone make you feel less important. Be strong, and let everyone know that international students not just at BU but all around the world can make a huge positive impact."