The New Media Writing Prize encourages writers to produce interactive work for digital devices and is now open for entries until 30 November 2016. The competition, run by Bournemouth University (BU) in collaboration with if:book UK, celebrates and showcases writers working with digital media to raise awareness of new media storytelling. There are a host of prizes - worth £5,500 - on offer in five categories in this year's competition, including two journalism prizes for the first time.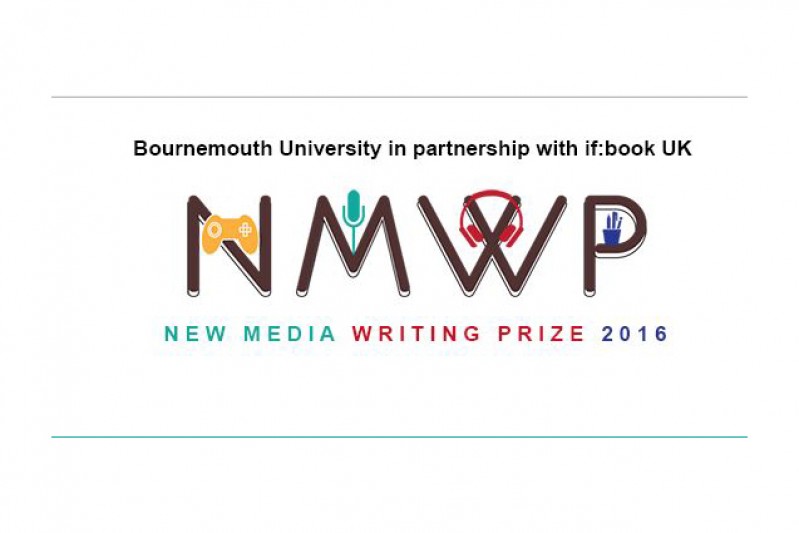 Previous winners include BU student Shaun Hickman from the 2015 New Media Writing Prize competition who spent 12-weeks with Unicorn Training on a paid internship, scriptwriting for narrators of e-learning videos. Following his internship Shaun was offered a full-time role with Unicorn Training: "I was delighted Unicorn recognised my work and were able to make such an offer," said Shaun. "It's also a brilliant outcome of their support for the internship," he enthused.
Organiser Dr James Pope, who is also BA English Programme Leader at Bournemouth University, said: "The New Media Writing Prize is an annual international celebration of innovative storytelling in digital media. We are the only competition in the world that is open to absolutely anyone, and we accept any entry that tells a great story using the full range of digital media, and includes interactivity for the reader/player."
 
This year's categories and prizes are:
Best New Media Writing: £1000 (donated by if:book UK)
Best Student: 3-month paid work-placement at Dorset-based e-learning company, Unicorn Training
The Dot Award, for the best idea for a new project: £500 and development support (donated by if:book UK)
Gorkana Journalism Award, UK category: £500
Gorkana Journalism Award, international category: £500
The international competition is now in its seventh year, and has attracted applications from students in Canada, France and Australia. 
Get involved
The judging panels are looking for great storytelling (fiction or non-fiction) written specifically for delivery and reading/viewing on a PC or Mac, or a hand-held device such as an iPad or mobile phone - this could be a short story, novel, documentary, or poem, using words, images, film, or animation, with audience interactivity.
The deadline is Wednesday November 30 2016 at 12 noon GMT, and the closing date for students is Friday December 16 at 12 noon GMT.
 
Shortlisted entrants will be invited to the awards ceremony at Bournemouth University on 18 January 2017, where the winner will be announced.
For more information and entry guidelines, visit the New Media Writing Prize website