Black History Month, which serves to both highlight the work of important people and commemorate landmark events in world history, began at BU with a series of talks looking at equality and diversity.  
 
Gary Loke, Head of Policy at the Equality Challenge Unit kicked off proceedings with a talk elaborating on the ECU Race Equality Charter, which BU has agreed to participate in. The charter looks at improving the representation, progression and success of minority ethnic staff and students within Higher Education. 
Gary talked about the ways in which universities could champion actions that could address issues found within Higher Education institutions, and how location and context could have an effect on environments.
 
He said: "For me, it was really important to be invited to talk as part of Black History Month. Issues of race and racism are endemic in society and Higher Education is not immune from that, it's a wider societal issue, but it does have a part to play.
 
"I was very pleased to see Bournemouth University's vice chancellor was at the talk and I could talk about the race charter mark, the work we're doing, and about how we are move to solutions towards entrenched issues. It was also great to have a participative audience who asked lots of questions."
Gary then went on to speak as a part of the Media Production Diversity Symposium, an event run by the Faculty of Media and Communication to look at ways of increasing diversity on media courses and in the media industries. The event brought academics and professional service staff together to hear about diversity, both at the university and within the media industries, before looking at ways to encourage a diverse range of applicants to study at Bournemouth University. 
Christa Van Raalte, Head of Department within the Faculty of Media and Communication explained, "Today's symposium is to look at issues of diversity in our student cohort. The impetus behind it has been the recent concern about the lack of diversity in the British media industry among creative. Bournemouth University is a major supplier of creative talent to the British media industries, we dominate that industry, and if that is the case, we need to be part of the solution as far as the diversity of that industry is concerned.
"We are looking at ways to attract and support a diverse body of students to media courses at Bournemouth University and to make sure they have a progression into the media industries."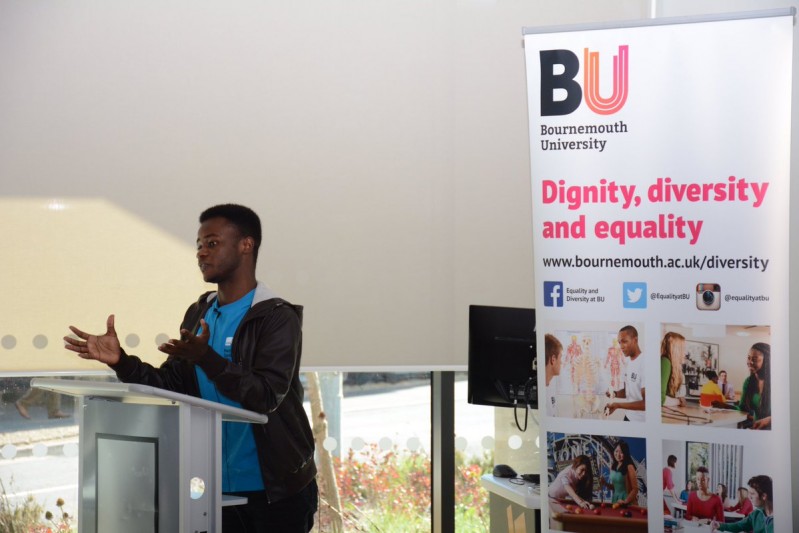 Students' Union (SUBU) President Daniel Asaya, the first international student to be elected SUBU President, also spoke at the event, sharing the views of current students at Bournemouth University. Daniel said, "October marks Black History Month in the UK, a time to recognise and celebrate the immense contributions made by Afro-Caribbeans and Asians. It also serves as a period of renewal for Black communities to connect with their people, cultures and recognize how much has been achieved so that they are inspired to continue creating such spaces and discussions."
James Palfreman-Kay, Equality and Diversity Adviser at Bournemouth University, said, "Marking Black History Month 2016 provides another opportunity for BU to show its strong institutional commitment to equality and diversity.
"I am excited that BU has become a member of the Race Equality Charter mark which looks to provide a structured approach to race which would incorporate staff and students and therefore provide another opportunity to enhance the staff and student experience at BU." 
Black History Month continues throughout October and Bournemouth University events can be found on the university's website. SUBU is also running a series of events to mark Black History Month, aimed at students, with more information available on the SUBU website.