Among almost 1000 graduates who walked across the stage during the Faculty of Management graduation ceremony is Danielle Foster.
Danielle, adorned in the blue and gold of BU's robes, is delighted to be at her ceremony – more than most – as at one point it was looking unlikely that she would be there.
The MSc Professional Development (Human Resources management) student had major surgery while studying for her Master's, and, but for the flexibility of her dissertation supervisor and her determination to continue, she may not have been graduating in 2016's ceremony.
Danielle had spinal fusion surgery in June 2015, where two rods and 13 screws were inserted into her spine, with a follow up operation in June 2016 when her disc slipped. She was determined that this would not detract from her studies though.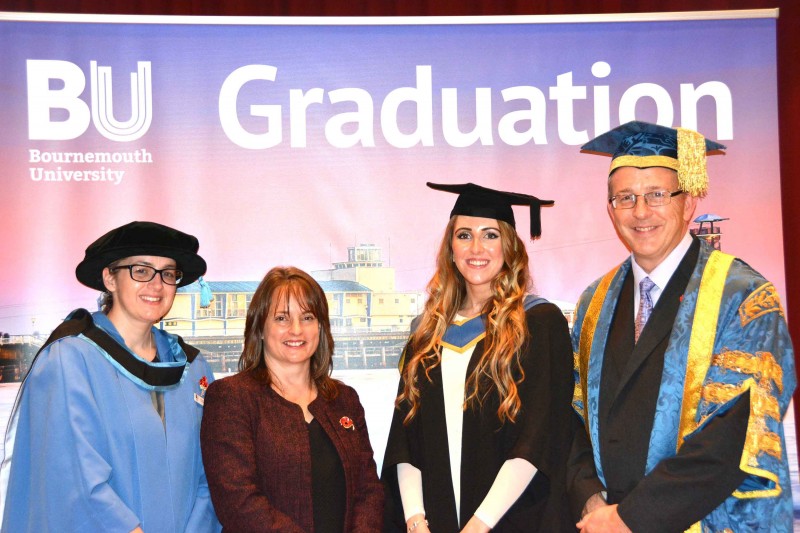 [IMAGE: L-R Lois Farquharson, Hayley Dornan, Danielle Foster, Professor John Vinney]
She said, "I had quite a long recovery but tried to continue to do my dissertation over FaceTime with Hayley [her lecturer].  Hayley came to the hospital to collect my dissertation too.  If it wasn't for Hayley I wouldn't be here today and I wouldn't be crossing the stage.
"It was quite difficult but I also had the Additional Learning Support team to help me, including Jack the dog, with exams as I couldn't write them and managing to use FaceTime which really helped too."
The operation was crucial for Danielle, but it had another side effect, namely she grew by four inches! She continues, "I was 5 foot 4 when I graduated from my LLB at BU and now I'm 5 foot 8, so I have managed to grow four inches and walk across the stage a lot taller this time."
Hayley Dornan, a Law lecturer at Bournemouth University and Danielle's lecturer, said, "Danielle had finished the taught element of the degree already so we had to continue her learning in a different way, which worked fine. Danielle helped me with the IT side though!
"It all worked out really well, Danielle is an excellent student and has always worked really hard. If it involved me going and getting her dissertation then that's what we need to do. I am really proud of her."
Reflecting on her moment of walking across the stage, Danielle said, "A few months back I was on bed rest in a back brace, I didn't think I was ever going to get across the stage. It was amazing to graduate with my cohort because I didn't think I was going to, it was really good to be here."
Danielle is now getting ready to get back to work and invest in her career, working for Apple in human resources.