A concussion professor from the USA was at Bournemouth University to give a seminar on his research findings. 
Professor Eric Hall discussed his research and advocacy efforts related to concussions in student-athletes at the collegiate level in the United States.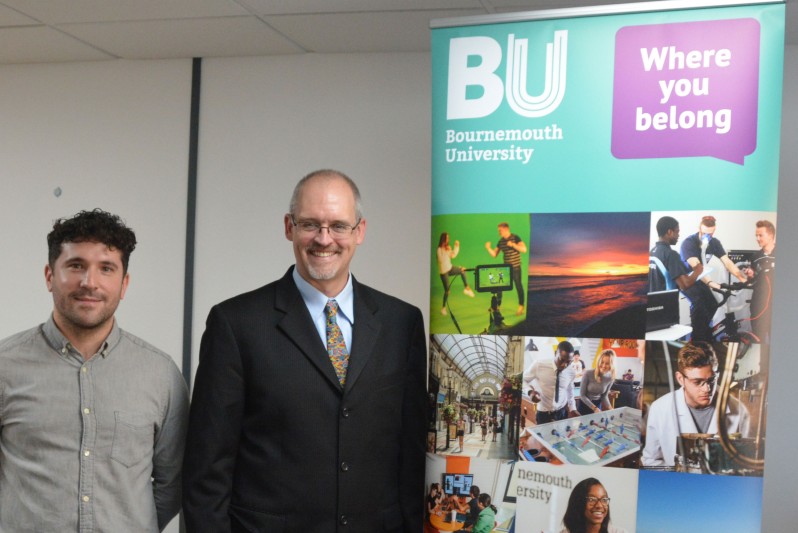 His recent research regarding the influence of genetics and pre-existing factors on neurocognitive testing and recovery from injury was revealed, as well as the study's findings on the influence of concussion history on gait and balance.
Professor Hall is a Professor of Exercise Science and the faculty athletics representative at Elon University in North Carolina. His primary research interest is in the area of exercise neuroscience and includes research and education in the area of physical activity and mental health.
Hall was visiting the UK following the International Consensus Conference on Concussion in Sport in Berlin, where he had presented a poster alongside his research collaborator BU lecturer Dr Osman Ahmed, who was also presenting his work.  
Dr Hall said "Osman and I have worked together for the past two years on our paper that just got published on Physical Therapy in Sport on how the media describes concussions. As a result of that research we came up with the media checklist."
"We hope that this checklist will be of benefit to journalists reporting on concussion, many of who will not be aware of the return-to-play guidelines or resolution of this injury.
"By providing them with an easy-to-follow checklist, it is hoped that they can cross-reference their work with this to ensure that they are providing interesting reading material to their audience which is also in keeping with current knowledge on concussion in sport." continued BU's Dr Ahmed.
This research will hopefully have big implications on how the media portray athletes and how they describe people who have concussions.
Read Hall and Ahmed's full paper: 'It was only a mild concussion': Exploring the description of sports concussion in online news articles'