The BU Big Match saw AFC Bournemouth achieve its highest ever league position, in a one-nil win against Premier League Champions, Leicester City, held at Bournemouth's Vitality Stadium on Tuesday 13 December.
The BU Big Match provided a chance to show the public some of the benefits of the partnership between AFC Bournemouth and Bournemouth University (BU), including community and education projects provided by both the club and BU. Throughout the season BU Students have opportunities, as match day ambassadors, which add value to their employability, while the men and women's football teams receive coaching from the Club through the partnership.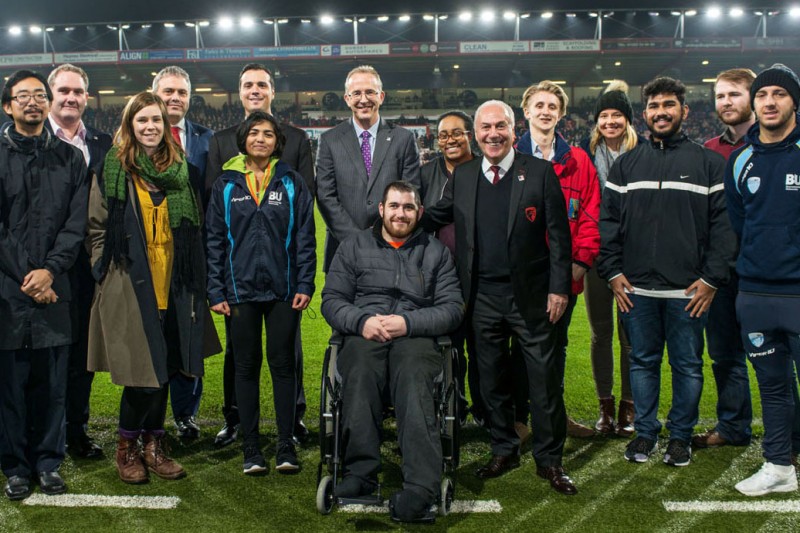 A dozen BU student volunteers were specially invited to attend the BU Big Match to thank them for their contribution to the local community. Since the start of the new term in September, 362 students have taken part in volunteering events/activities including 30 hours with the Slades Farm Community Garden Project, 75 hours with Alzheimer's Society Project, 144 hours of Beach Cleaning at Hengistbury Head and Bournemouth Beach, 84 hours of Mural Painting for Victim Support, and 49 hours of Conservation work in the Dorset Countryside for Dorset Wildlife Trust, and RSPB Nature Reserve.
Also at the match, were a team of final-year sport management students who were undertaking a research consultancy project for the club, with more than 100 football fans interviewed as part of the exercise. While yet more BU students were involved as members of  the BU Big Band, who entertained hundreds of fans of all ages with both festive tunes and football favourites outside the ground before kick-off.
Ahead of the BU Big Match, manager Eddie Howe visited Bournemouth University's new Sports Performance Laboratory on Talbot Campus, where he met with Sports Management and Sports Psychology students, before giving a talk in the new Fusion Building about the challenges of managing a football club.
Commenting on his visit, Eddie Howe said: "It's great to see BU progressing so well, I think it's really important that the community works together so I think if there are things the club can do to promote the university, and vice-versa, it's a really nice link. Hopefully we can generate the next generation of Bournemouth supporters through the university, and likewise we can help facilitate the future careers of the young people in Bournemouth."
Also as part of the BU Big Match, members of the men's and women's BU football teams visited AFC Bournemouth's Vitality Stadium, where they were given a tour of the stadium, facilities and grounds by Head of Community, Steve Cuss. While AFC Bournemouth Commercial Director and BU graduate, Rob Mitchell spoke to students at Poole High School about his role at AFC Bournemouth as part of BU's Outreach Programme with local schools.
The partnership also brings international profile and this month BU attended the SoccerEx Asian Forum in Doha, Qatar, as part of a global initiative by the university to reach out to international audiences with sports training packages. This follows on from the university successfully running a British Council China-UK Football Study Programme for 60 football coaches in collaboration with AFC Bournemouth for three months over the summer of 2016.  
BU Chief Operating Officer, Jim Andrews said: "BU and AFC Bournemouth have a long history of having a really close working relationship; we've worked with the football club over many years and over the last four or five years, the club has gone from strength to strength and so has the university."
"It's great to see the success of two global organisations in the local area. We do a lot of work together in the community, so we work very closely with AFC Bournemouth's Community Sports Trust, going into schools and working with young people. The club has also provided real-life work experience for Bournemouth University students."