The China Innovation Hub which hosted its UK Event at Bournemouth University's Executive Business Centre (EBC) saw speakers from a range of international academic institutions including thinktank, Camot Innovation Academy Cambridge (CIAC), Shanghai Jiaotong University, and Reading University.
The China Innovation Hub UK Event was being held to promote the Global BU plan to local companies, with the keynote:  'Embracing Innovation: Understanding China's growth and what China will do next'.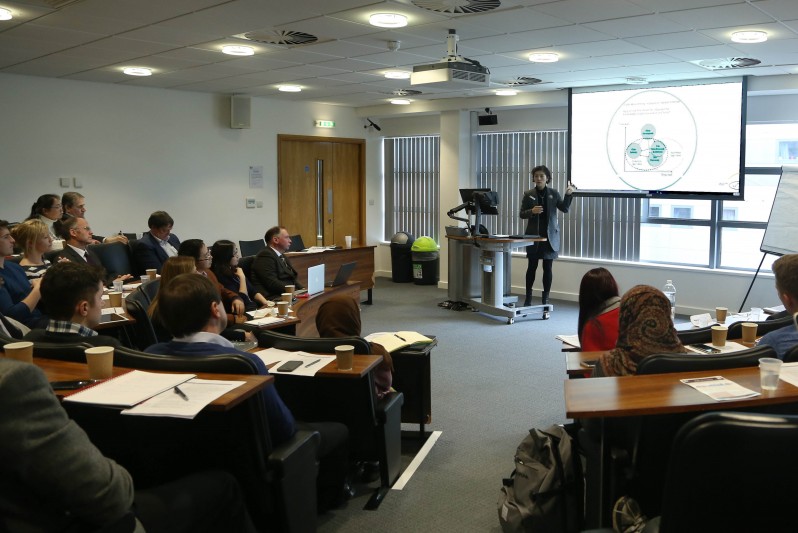 Speakers from BU took part, with Dr Lucy Lu, Associate Dean of Global Engagement in the Faculty of Management hosting the event, which drew an audience from across local business sectors. Lucy said: "The China Innovation Hub is a Global Hub of Practice which represents our vision to take the concept of Fusion global, very much linking our global vision activities with regional engagement to facilitate regional business collaborations between the UK and China.
"We're very pleased to see quite a lot of guests turn out today who are interested in working with China, so we hope our guests will learn as much as they can so that they can become our partner in the future and work with the China Innovation Hub, addressing innovation issues with China."
Speakers talked about co-operative innovation with mega-infrastructure projects in China, as well as the role of technology, industry and developing innovation leads for the future. The event then culminated in a roundtable discussion, China's growth and its implications for the UK, before closing with a presentation on BU's upcoming Global Festival of Learning, which will feature China in 2017.
Attending the event was Nigel Reed Smith of Wessex Business Focus: "We were delighted to attend Bournemouth University's China Innovation Hub event.  We help businesses protect and commercialise their intellectual property and very much welcome the opportunity of liaising with the China Innovation Hub with regards to its links to the Chinese market, potential commercial partners and connectivity to investors."
Nigel concluded: "The University should be congratulated for developing such links for the local business community and also for providing a focus on promoting innovation between China and the UK."
BU's Global Hubs of Practice are built around creating a unique regional, national and global network of partners and collaborators that are connected into business, government, community and academia. This networked community then has combined access to BU's education, research and practice.
To read more about BU's Global Hubs of Practice, please visit: https://www1.bournemouth.ac.uk/global-bu/global-engagement/global-hubs-practice