FoodSMART is the result of research by Bournemouth University, funded by European Union's Horizon 2020 Programme, a four-year research partnership running from January 2015 to January 2019.
The app itself offers an ICT solution, using smartphones and QR codes to deliver personalised advice and food recommendations when a user is eating out. The app can also tailor advice and menu choices according to specific dietary requirements provided by users. Pescatarians, vegetarians, vegans and religious observances can all be selected by users wishing to strictly control their menu choices.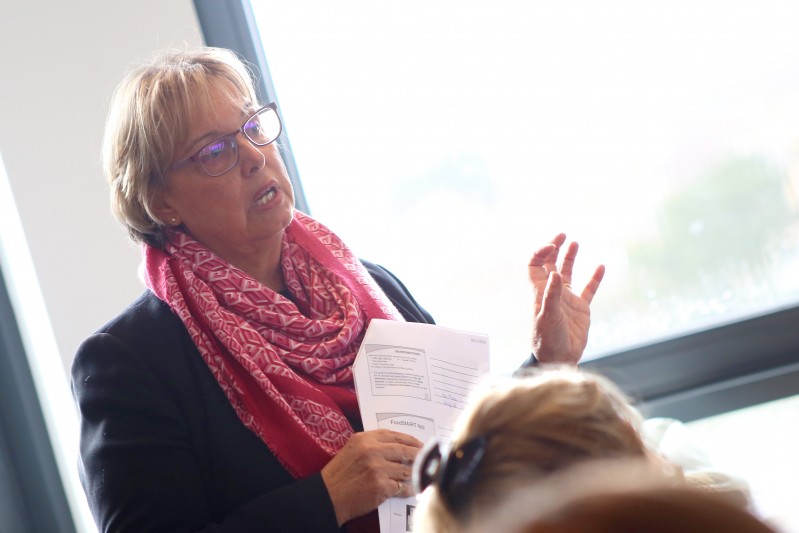 Guests were also invited to test the application in its prototype form, preloaded onto a set of android devices, which used the University's catering as menu data. Users were able to select specific dishes, to look at nutritional values for each meal, as well as scan in QR codes, leading users to specific dishes.
Professor Hartwell, who hosted the talk, said: "As an academic, it's really exciting to be in the student building with lots of buzz and excitement, and also have students who voluntarily want to come and listen to some of the research we are doing.
"The main goal of FoodSMART is to provide a flexible, customisable and accessible mobile interface and improved menu design that delivers a personalised dietary recommendation across public sector settings."
Goals will be achieved by pursuing the following specific objectives within three overlapping research and partnership programme areas of ICT development, foodservice operation and consumer behaviour.
As well as the user functionality, the app will look to map the relationship between criteria to provide personalised dish recommendation, as well as provide a predictive capacity to foodservice operators in the form of data analytics.
The programme will also be able to interpret and evaluate consumer food choices across Denmark, France, Greece and the UK and more information on its progress can be found here: https://microsites.bournemouth.ac.uk/foodsmart/